In northeastern Minnesota, the 677 residents in Marble lay claim to an auto repair shop, bar, church, elementary school, library and post office. They live just west of the Hill-Annex Mine State Park that interprets how such whistlestop towns sprung up more than a century ago beside iron open-pit mining operations on the Mesabi Range. These places are part of a chain of small mining communities stretched east to west along Highway 169 between Hibbing and Grand Rapids.
For Itasca County Commissioner Ben DeNucci, who represents families in the 35 mile-strip of land here neighboring St. Louis County to the nearby east, he'd like to see the "mining locations" become "thriving small cities" with gas stations and grocery stores and movie theaters.
The goals may seem minimal to some, but they can be life-changing. To achieve such efforts, DeNucci and co-commissioners believe they must convince Minnesota Gov. Tim Walz to maintain the "viability of the fully permitted iron mining, steel making" Mesabi Metallics Nashwauk Project, according to their letter to the State Capitol earlier this year. "This project is the largest of its kind in North America," the letter reads. "At approximately $1 billion already invested, it is certainly one of the largest — perhaps the largest — economic development projects in the history of our state." In their write-up, they requested that Walz help assure the project which can infuse hundreds of millions of dollars into the regional economy while bringing 350 direct jobs and up to 600 spinoff jobs.
The hope is that Marble and other cities here can benefit from new employment, which means an influx of residents, housing and economic development.
A standstill in Nashwauk
Despite the penned plea from the Itasca County Commissioners, the governor has announced that he was uninterested in extending a lease agreement with Essar Global and its subsidiary Essar Capital Americas on the Mesabi Metallics project, a sentiment echoed by Iron Range and Department of Natural Resources officials. The terms of the agreement show that the half-constructed pellet plant must be completed by Dec. 31, 2019, or the state can retake control of the contracted minerals, potentially opening doors for other companies.
Essar owned the project when it went bankrupt in 2015, and has since led the lobbying on its behalf. But Walz and officials from the DNR have been encouraging Mesabi Metallics — the group in control of the lease — to find a more credible partner than Essar if it wants to move forward despite the looming deadline.
In mid-October, Walz doubled down on his stance on Essar, calling its lack of movement on the project since it regained the mineral leases in July 2018 "totally predictable." "They're bad actors — we're frustrated with them," he said. "We're trying to figure it out, but we're not interested [in an extension] with them. We don't see any indication that they're the ones. That entity needs to emerge."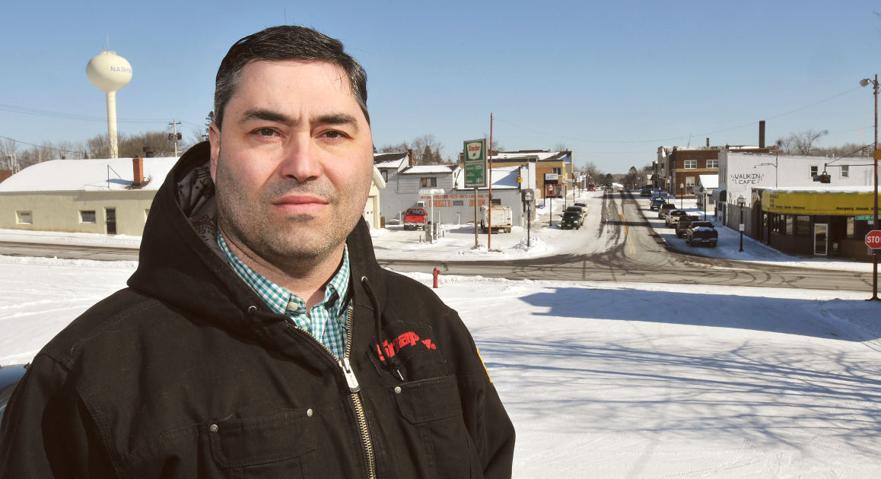 DNR officials echoed the governor on a conference all with local elected leaders on Oct. 22, according to multiple sources on the call.
The fate of the Mesabi Metallics project has appeared to fall from the hands of state officials to the sometimes opposing factions of local opinions, bringing in Iron Range mayors, county commissioners and the building trades.
State DFL Reps. Julie Sandstete, of Hibbing, and Dave Lislegard, of Aurora, oppose giving Essar more time to finish construction on the pellet plant. State Sen. David Tomassoni, DFL-Chisholm, is also opposed to an extension, saying he would rather see one of the Range's three established taconite mining companies — U.S. Steel, ArcelorMittal USA or Cleveland-Cliffs — come in and take over the project. Both Tomassoni and Sandstede supported Mesabi Metallics as it emerged from bankruptcy and regained the state leases but opposed the reemergence of Essar. "They wore out their welcome, it's as simple as that," Tomassoni said. "You can only trust people for so long. Something drastic would have to change."
Lislegard has long been a proponent of a Cleveland-Cliffs-fronted project. In 2017, Cliffs bought or leased more than 3,700 acres of land within the Nashwauk site, which Mesabi Metallics lost last year when it failed to make lease payments to Glacier Iron Ore Properties. The GIOP sold and leased the majority of minerals intended for Nashwauk to Cliffs.
The Mesabi Metallics Nashwauk Project would surely add to the economic profile St. Louis County, which currently earns revenue from Keetac in Keewatin; Minntac in Mountain Iron; and United Taconite in Forbes and Eveleth; along with the proposed PolyMet and Twin Metals copper-nickel mining projects.
But here in Itasca County, DeNucci and others are banking on the "critical importance of preserving and maintaining all the permits already in place for the project" for the Mesabi Metallics project, the commissioners wrote to the governor. "Even if another company eventually acquires or owns certain physical assets at the project site (real estate, mineral rights, or owns the partially constructed buildings), it would take that company many years to apply for and re-acquire all the necessary regulatory permits to do anything with the project site. With the length and difficulty of the current permitting process in the State of Minnesota, it's likely that this project would never be fully re-permitted and the project would be dead."
In the October conference call, DNR officials maintained they haven't made any decisions on the Dec. 31 lease deadline, notably saying the agency has a calendar year to actually pull the minerals from Mesabi Metallics. That detail could spell out an extension by another name.
The DNR has full authority to take back mineral leases from a company under the terms of its agreement, but an extension must pass the state's Executive Council formed of the governor, lieutenant governor, secretary of state, state auditor and attorney general.
But Lislegard and Republican Rep. Sandy Layman of Cohasset, a West Range community, told the DNR on the conference call that the agency seems unlikely to reach its goal of attracting a new partner with the status of the leases unknown. In short, pulling the leases could bait Cliffs — which owns a large interest in mineral on the site already — or another legitimate company to discuss their plans for the minerals at a more in-depth level.
Or, knowing the leases are secure for a longer period of time, possibly attract a suitable parter. That would involve working with Essar in some capacity, something the state doesn't have a taste. According to sources on the call, Lislegard added that pulling the leases could force the company's hand to sell its interest or enter Mesabi Metallics into bankruptcy and free the private land up that way.
In regard to the leases, the DNR told the local and statewide officials that they are trying to act in a way that benefits the communities. Mesabi Metallics owes a $12 million royalty payment this year that would benefit municipalities and schools on the Range.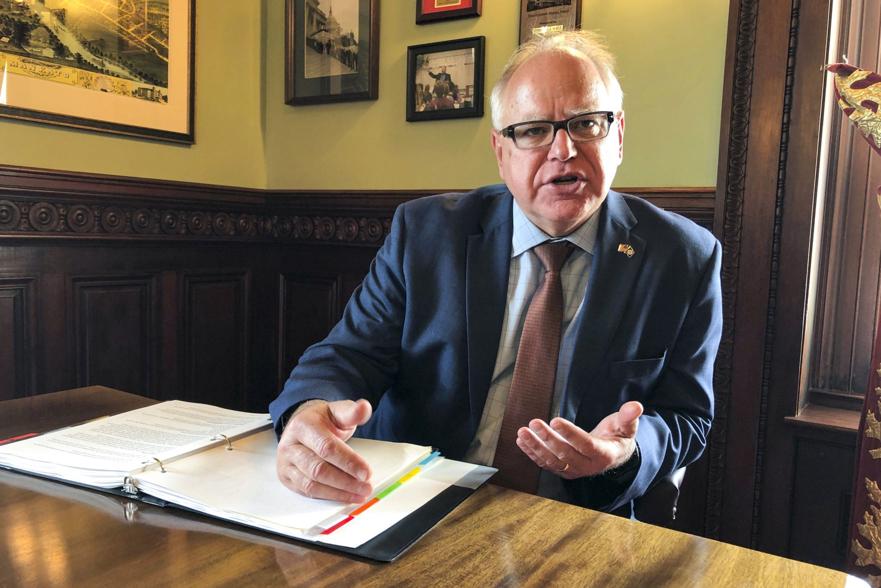 Nashwauk Mayor Cal Saari was among those local entities on the call, saying the city is frustrated with the lack of movement, but said it's the future of the city. Hibbing Mayor Rick Cannata, who also represents the laborers union, said the trades just want to see the project built.
"We don't care who owns the plant," he said, according to sources on the call.
With all that said, when asked if the DNR knew who was in charge of Mesabi Metallics currently — after CEOs Tom Clarke and Gary Heasley have exited in the last two year — agency officials were unclear. They said Essar potentially bought more equity in the project after buying $250 million in Mesabi Metallics debt earlier this year — debt that originated in the Essar Steel Minnesota bankruptcy.
'It's not Silicon Valley'
Inside the Midland Research lab in Marble, Doug Learmont, the coordinator of the regional joint powers called the Western Mesabi Mine Planning Board, stands in his office and talks with DeNucci about how there was a lack of industry northbound of Duluth before the discovery of iron ore more than a century ago in Tower. Cross-country railroad systems developed and helped carve the forest-draped landscape into "mining locations" between Hibbing and Grand Rapids.
Here, people first survived on logging and then in the 1940s to 1960s they gained employment in the iron ore industry. "Those were the good times and there were thriving communities, but we haven't kept that momentum," said DeNucci. DeNucci's father graduated from Nashwauk High School with at least 120 students in 1970. But a mining bust resulted in a downturn in population and DeNucci received his diploma with only 58 students at NHS in 1994. "Today, we're not far from glorified mining locations" in places like Marble, Coleraine and Bovey that had a combined population of roughly 2,500 in 2017.
The two men looked out the windows of Midland Research to point out the humble amenities in Marble today.
"You have a bar, church and post office," DeNucci said. "What you have is a mining location."
Learmont added, "We could use a lawyer's office, a gas station, a hotel."
They asked each other, What is the greatest opportunity to resurrect the good times?
"It's the potential of the Nashwauk project," DeNucci offered. "It's not Silicon Valley. It's not Google. It's not Amazon. It's mining and the ability to not only mine iron ore but also make steel here."
Learmont explained that the regional mining industry is currently "a raw materials exporter," which he related to being an exporter of crude oil or natural gas. But economic longevity could be gained if more focus was put toward recent technological advancements providing "steel-making" abilities.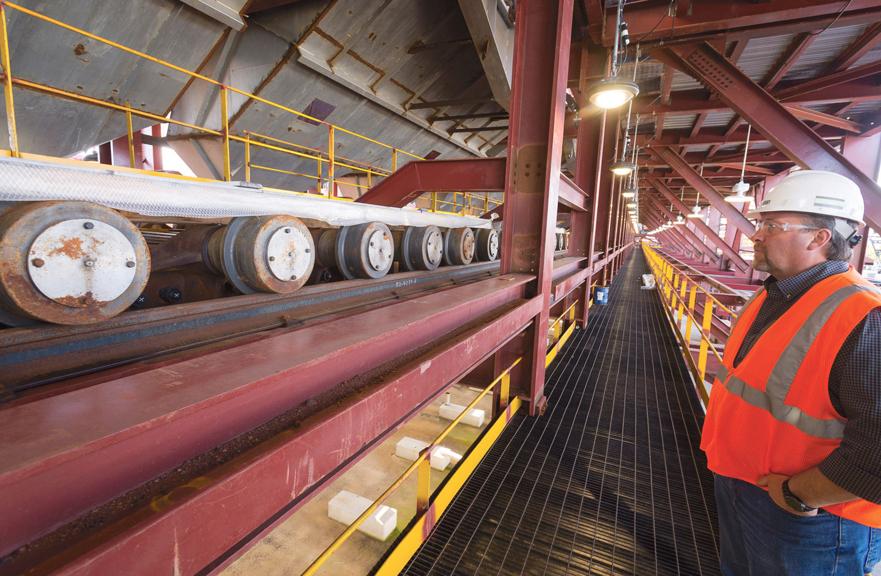 Projects forge ahead
Meanwhile, U.S. Steel has maintained several hundred jobs at Keetac, which DeNucci described as "high-paying, family sustaining direct and spin-off jobs that allow people to spend money locally and put their kids in local schools." But he said that ArcelorMittal and Cliffs are currently not hiring in his district.
The county commissioner pointed out that a former DFL legislator named Tom Anzelc, with a group called Prairie River Minerals, received approval from the U.S. Bankruptcy Court this past summer to buy two former Magnetation iron ore facilities in Keewatin and another near Grand Rapids.
DeNucci and Learmont said that is a plus since Anzelc has hopes of processing old stockpiles into tons of lump and sinter fine ore that could be converted into steel.
Also, DeNucci highlighted plans for AngloGold Ashanti and Vermillion Gold to conduct mineral exploration on mineral leases in Itasca as well as in St. Louis and Koochiching counties.
County differences
Itasca County is Minnesota's third largest county, behind only St. Louis and Koochiching counties. But Itasca's total revenue budget has been set at $153 million in 2019 compared to the St. Louis budget of $395 million.
The latest data from the Minnesota Employment and Economic Development shows that Itasca County has a 3.8 percent unemployment rate, with less than half of its 45,000 residents in the labor force. For comparison, St. Louis County has a 2.9 unemployment rate, with about half of its 200,000 residents in the labor force.
Both Itasca and St. Louis counties rely on health and education sectors for steady, full-time employment.
Though the counties are vastly different in business makeup, DeNucci and other commissioners have been trying to figure out how to retain "more revenue, more services" in his district. He continued, "Marble may never be St. Cloud, but it can be the best Marble it can be."
Two options?
In pleading with the governor to help maintain the permits for the Mesabi Metallics project, the Itasca County Commissioners suggested picking one of two roads ahead.
Option No. 1: An established mining company acquires ownership of Mesabi Metallics and takes control of all permits in place.
Option No. 2: Mesabi Metallics completes the project.
"Clearly, we prefer Option 1," the letter reads.
The commissioners also requested the governor take a "more open flexible approach in communicating and dealing" with Essar's involvement with the project. "Please consider some historical perspective here and also look at this from a business and investor perspective."
Learmont said nearby communities in the county have valuable resources and they can flourish if leaders "take our resources and helping them bear fruit." He added, "But it's extremely difficult to find an alternative investment of the magnitude of a major mining company. There are major uncertainties. There are major questions that don't allow putting a time frame on anything."
DeNucci continued, "This all starts and stutters and stumbles with this Nashwauk project. It's causing a lot of fatigue because we know that we need a fully permitted steelmaking on the Iron Range. This must happen. To let that slip by, well, that's unacceptable. If it doesn't, then that's a travesty. A tragedy."