A longstanding axiom about crushing taconite at northeastern Minnesota iron ore facilities is that the plants "make small rocks out of big rocks."
Simple. But true.
However, a grinding technology being tested at the Natural Resources Research Institute (NRRI) Coleraine Lab, may change the crushing game at northeastern Minnesota iron ore plants.
A High Pressure Grinding Roll (HPGR) could move the iron ore industry into a new era of grinding.
The HPGR compresses and crushes feed between two counter-rotating rollers.
It's far different than the decades old methods of using rod and ball mills – or rock-on-rock - to grind ore.
"The greenfield projects which are being built have been moving away from rod mills," said Shashi Rao, an NRRI metallurgical engineer at Coleraine. "Besides Minnesota and a few in Russia, few use rod mills."
At some iron ore plants, taconite is crushed down to pieces of small rock by primary, secondary and tertiary crushers. Some plants also use autogenous or semi-autogenous crushing, in which rock basically crushes other rock. Then, giant rotating mills which hold massive-size rods and balls, further grind the material.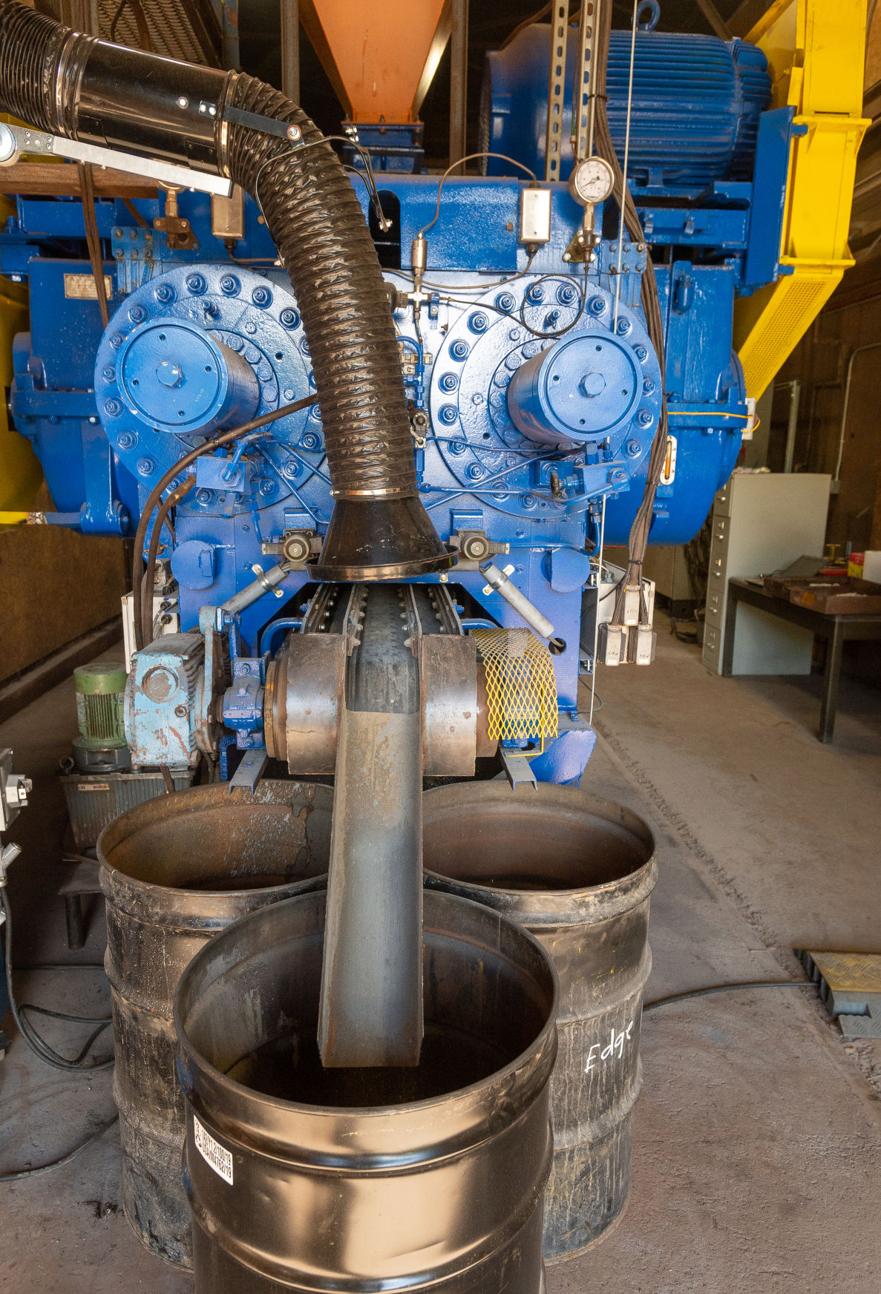 They're tried-and-true grinding methods. But it's the same basic process that's been been used at northeastern Minnesota iron ore facilities since the plants were built.
HPGR could be the next step in more efficient grinding.
"It's been used by cement mills for a long time, probably since the early 70s'," said Rao. "But it's been adapted to ferrous and non-ferrous mining since the early 1990's. It's also been in use on an industrial scale in Michigan at an iron ore facility."
Beyond the HPGR machine in Coleraine, another HPGR machine is being used on a pilot scale at an Iron Range iron ore plant. The identity of that plant is confidential.
But HPGR has already shown it works within the North American iron ore industry.
"It's already been proven," said Tim Lundquist, HPGR manager for global industry supplier Weir Group PLC, manufacturer of the machine. "It was in use at the Empire Mine in Michigan for 19 years. It's just been slow to be introduced to the mineral processing industry."
The HPGR machine at Coleraine was formerly used at the Magnetation Plant2 facility near Bovey.
NRRI acquired the machine and moved it to its Coleraine lab.
NRRI's Coleraine Lab is a national and internationally-recognized research facility which tests and proves mining technologies.
Ore from both the western and eastern Iron Range has already been tested in the NRRI machine, said Rao. Material from across the United States, Canada, and internationally, has also been tested.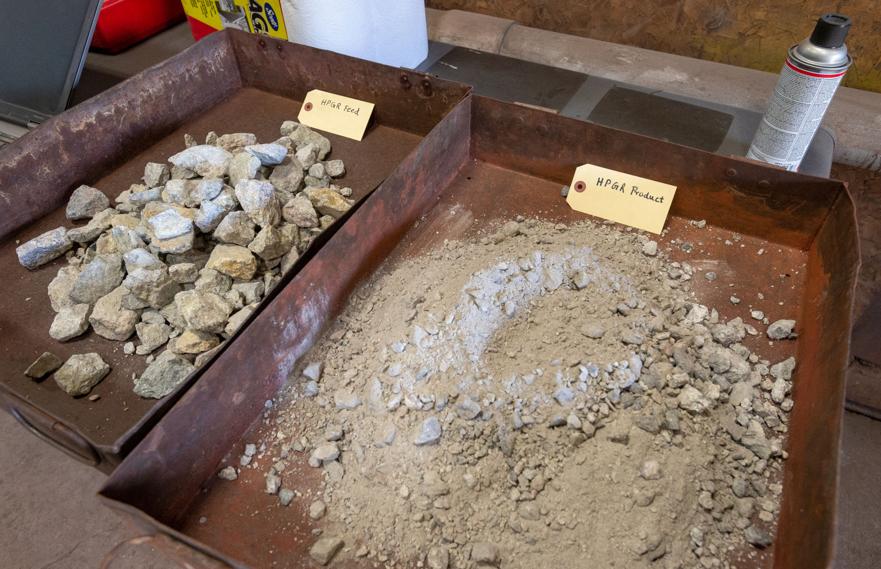 "Typically, anything (rock) below two inches can be fed into it," said Rao. "And the size coming out can be anything you want."
The small-scale machine at Coleraine is capable of grinding about 50 tons per hour.
An industrial-size HPGR unit can grind 5,000 to 8,000 tons per hour, said Rao.
At northeastern Minnesota iron ore plants, one HPGR machine could replace two or three rod and ball mill lines, he said.
Weir Group builds the machines in the Netherlands.
"It's simpler, easier to operate, saves energy, there's a reduction of grinding media and more reliability," said Lundquist. "It's circuit simplification. You can take 18 (processing) lines and turn them into nine lines or you can take 12 lines and turn them into six lines."
Ore producers across the Iron Range are keeping an eye on how the NRRI machine and the HPGR unit at the Iron Range iron ore plant perform, said Kevin Kangas, Coleraine Lab director.
"We believe based on our research, it's a viable opportunity for all the plants," said Kangas. "I think all the companies are also watching that one (at the local iron ore plant) to see how that project plays out."
As much as 60% to 70% of the energy used at a mine is consumed in the crushing and concentrating process, said Kangas.
Operating an HPGR machine dramatically reduces electrical energy consumption, water usage and lowers greenhouse gases, said Kangas. That helps iron ore pellet producers reduce costs, he said.
"As operations have to move out further (to mine), costs go up, so they look for opportunities to reduce costs elsewhere," said Kangas. "If you're going to focus on energy reduction, there's no better place to look than in crushing and grinding."
HPGR can reduce grinding process energy consumption by about 40 percent for certain ore types, according to NRRI.
A primary mission of the NRRI is to advance iron technologies, said Rolf Weberg, NRRI executive director.
"I would say that iron is really a focus for us in addition to non-ferrous opportunities," said Weberg. "Iron is still the big player in Minnesota and it deserves a lot of our attention. We want to be sure we are supporting our essential iron industry."
From its staff of about 16 in Coleraine to its water, geology, and soil remediation employees at NRRI headquarters in Duluth, all work together to support northeastern Minnesota's mining industry, said Weberg.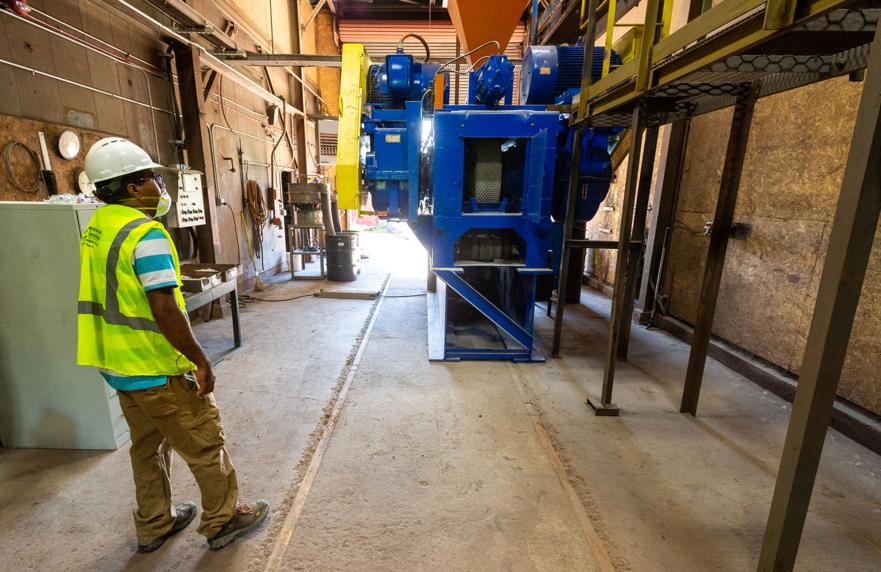 "Everything we do applies to the iron industry," said Weberg. "In some form or another, we have 20 to 25 people thinking about this all the time and also in terms of how we think of iron of the future."
"Iron of the future," is a catchphrase that NRRI is using to help define its goal of developing new technologies that will help taconite mining and iron ore pellet production processes.
"We are looking at what we can do to understand the iron resource, what kind of processes are going to be needed in the future and what types of processes are needed for existing resources," said Weberg. "We get a lot of cooperation (from mining companies) and we have close relationships with them."
Many of the mining and processing techniques used at northeastern Minnesota's date back to the founding of the industry. And the processes continue to work well.
Still, NRRI is pushing the envelope to develop new processes that will save water, energy, and help reduce carbon footprints, said Weberg.
With hundreds of years of ore remaining on the Iron Range, the HPGR is an example of moving the essential job of crushing rock into a new era of processing, he said.
"We can still make money using old technology," said Weberg of current processes. "It's done every day. But if we can identify a technology that reduces energy costs by 20%, why wouldn't we do it? Our job is not to reinvent what everybody's doing, but to help the industry evolve."
The late Minnesota Gov. Rudy Perpich, who grew up in Carson Lake, a mining location outside Hibbing, in the early 1980's led the way for formation of NRRI. Perpich was the son of a miner.
U.S. Eighth District Court Judge Gerald Heaney joined Perpich as a proponent of a natural resources research facility.
The research facility was founded in the midst of a massive iron ore industry downturn.
NRRI conducts research on minerals and metallurgy, forests and land, materials and the bio-economy, water, energy management, and business development. It operates under the University of Minnesota Duluth and employs more than 140 scientists, engineers, technicians, staff, and students.