DULUTH — If you stand atop the ski slopes of Spirit Mountain in Duluth and look down toward the St. Louis River, off to the right you will see the neighborhoods of Gary and Morgan Park.
In between the two sectors of homes, you will observe a gigantic field.
A person may wonder, why is nothing built there?
Many people are unaware of what once inhabited the large piece of land in West Duluth, says Sammy Maida.
Maida, an area historian and model railroad hobbyist, is quite familiar with the life story of the site's former occupant.
He grew up near it, had relatives who labored there, has researched it carefully — even built a jumbo model diorama of the numerous industrial buildings that stood there, brimming with life, for decades.
There were so many buildings, it was like a city of its own, he notes.
"There's not much left" of U.S. Steel's Duluth Works plant — virtually nothing, Maida said.
But the longtime steel and cement manufacturing complex — deeply connected to the Iron Range — was once the city's largest employer; the fourth largest industrial compound in the state, in fact.
It is the reason the neighborhood of Morgan Park exists.
It had a "huge impact" on the region.
And thanks to Maida, an administrator of the U.S. Steel Duluth Works public Facebook page, the plant and its influence "on iron and ore" have not been forgotten.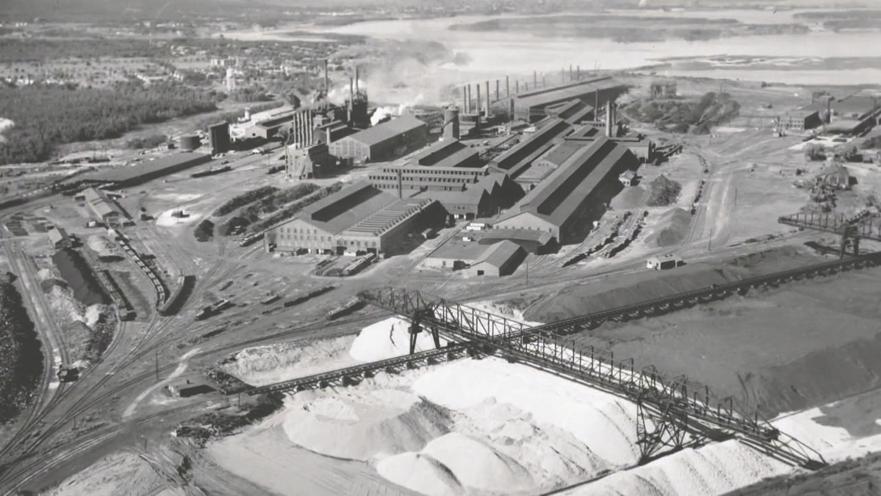 The story of Duluth Works is fascinating, says Maida, a board member of the St. Louis County Historical Society.
It's a tale of a steel mill in Duluth that wasn't even really desired — by U.S. Steel in particular.
"U.S. Steel didn't want a steel plant there," Maida said.
It was built for the "official" reason of supplying the growing Midwest with steel finished products.
But there's more to the narrative.
During the early-1900s, the mines of the Mesabi and Vermilion ranges furnished 70 percent of their ore to USS, Maida said.
The Minnesota Legislature took notice and attempted to impose a tonnage tax on iron ore from the vast USS reserves. Legislators essentially said, "you have a helluva lot of ore without paying us anything on it," Maida explained. "If you don't want us to tax you, in return you will build a steel mill and we won't impose heavy taxes."
Thus, "unofficially," U.S. Steel Duluth Works was constructed as part of a "gentleman's agreement," Maida said, between USS and the State of Minnesota to not impose hefty iron ore taxes in exchange for a fully integrated steel plant within the state.
The plant — in operation from 1915 to 1987 — would never have been built in Duluth "if not for the Iron Range" located some 70 miles away, Maida said.
It had an incredibly long life considering the challenges it encountered. But despite the struggles, the combined works of the steel and cement plant employed many thousands of people, including immigrants who came to work at the plant and a number of Iron Rangers.
During its existence, the mill's steel helped build ships in the Duluth shipyards used in the two world wars. It manufactured mesh used to build the nation's highway systems and to construct the Cold War missile silos in the Midwest.
It even used raw iron ore from Iron Range mines to produce grinding rods that went right back to the Range for use in taconite pellet plants.
Construction of Duluth Works, then known as Minnesota Steel Co., a USS subsidiary, began in 1910 on about 1,500 acres of undeveloped land near Spirit Lake, a widened stretch of the St. Louis River which flows into Lake Superior.
As an integrated steel plant, it required several raw materials, including iron ore, limestone and coal to combine in furnaces to make a product.
Iron ore was readily available from the Iron Range, but the other materials that were needed to make steel had to be brought to the facility from much farther away.
Maida said USS theorized that the ore boats which shipped iron ore from Duluth to steel plants in the lower Great Lakes, including Gary, Ind., could be used to haul coal and limestone back to Duluth. After all, the ships normally returned empty.
USS officials thought "that might make it profitable," he said. "At one point U.S. Steel was hemming and hawing." But soon, company officials believed "the potential to be huge."
In fact, they speculated that if they built the most modern steel plant in the world, Duluth could become a great center of manufacturing, attracting other users of steel, with "tenants lined up to Two Harbors," Maida said.
But in reality, it all turned out a bit differently.
****
Economic conditions and the onset of World War I delayed the construction of the plant, and it wasn't completed until 1915, costing USS $20 million.
The steel plant was designed with nearly 50 buildings — the size of a small community, Maida noted. Structures were made of steel with concrete block walls rather than the traditional corrugated steel to allow air to pass between the walls and lessen the impact of Duluth's cold winters, he noted.
On the "hot side," there were twin blast furnaces, open-hearth furnaces and metallurgical coke (a basic raw material used for the production of pig iron and steel) ovens.
The iron ore, mined on the Iron Range by USS' Oliver Mining Co., was hauled by rail on the Duluth, Missabe and Iron Range Railway directly to the plant.
Coal, mined on the East coast, was hauled by rail to Great Lakes ports and sent to Duluth on lake carriers by USS' Pittsburgh Steamship Co. And limestone from Michigan was shipped by lake carrier to Duluth by the Bradley Transportation Co.
The works was originally intended to build rails for the expanding railroads. But by 1915, railroads had reached peak construction, so the rail mill was converted into bil let finishing facilities, which produced a semi-finished product with lower profit margins than finished rails, Maida said.
In conjunction with the steel mill, a company town, named Morgan Park after USS's then chairman of the board, J. Pierpont Morgan, was built for employees.
Homes were constructed with concrete block, the streets were paved — "it was a nice place to live," Maida said. All of the town's shops were located in one building, called the Lakeview Store, making it "one of the first indoor malls in the country," he added. Morgan Park remained a company town until 1938, when it opened up to all residents.
In 1916, USS subsidiary Universal Cement Co., later Universal-Atlas Cement Co., constructed a cement-making plant northeast of the mill. The plant made use of a blast furnace by-product, called slag, which was "ground down and put in their cement," Maida said.
Soon there were some 1,800 workers between the mill and cement operations.
USS, however, was facing a number of problems. The plant was located far from centers of industrial development. And a pricing system was employed that charged shipping fees as if product was produced in Pittsburgh, not Morgan Park. That "added a phantom price to a product made in Duluth and sold to a company in Duluth, but charged freight as if it was made and shipped from Pittsburg," Maida explained.
USS decided to expand the steel mill in the early-1920s, building a new wire, rod and nail mill and a fence post fabrication facility. The mill was capable of making 200,000 miles of barbed wire and 23,000 miles of woven wire fencing per year, as well as 300 types of nails.
However, even after the expansion, the Duluth Works only consumed 20 percent of its own steel production for its finished products, Maida said. The rest of its semi-finished steel was shipped to other facilities for finishing.
Then the Great Depression hit.
The blast furnaces, coke ovens and open hearths were idled at times, leaving only the finishing mills on the "cold side" in operation. One of the blast furnaces was also dismantled.
Company officials realized they had to re-organize less profitable divisions to remain competitive, and in 1932 they decided to move Minnesota Steel Co.'s holding under the umbrella of the American Steel and Wire company (AS&W), another division of the USS empire.
By 1940, worldwide demand for steel was escalating. With a "war raging again in Europe" the works "came back to life," Maida said. A blast furnace, shipped from Joliet, Ill., was installed to increase pig iron production for the war effort, increasing the annual steel output in 1942 from 300,000 tons to more than 650,000 tons.
Women also joined the workforce during World War II, performing jobs at the plant held by the men drafted for military service. They did everything from wire drawing to operating cranes, and made up 500 of the plant's 3,500 employees, Maida said.
Following the war, the plant went into peacetime production to assist with
rebuilding the war-torn countries of the world, and output increased to 915,00 tons of steel per year.
In the mid-1950s, a new mill was installed to make welded wire mesh for concrete highway construction, Maida said. The works was also producing 5 million fence posts annually, including sign posts for the expanding highway system, 21,000 miles of wire per year and 150 million nails per week.
In 1964, the AS&W division was absorbed once again into the USS umbrella — under its operations division — and the Morgan Park plant was known from then on as simply, "the Duluth Works."
****
Maida says the beginning of the end happened in the late-1960s.
USS hadn't invested in improvements at the plant, such as the basic oxygen furnace (BOF) technology that was being installed at other USS plants to replace outdated open-hearth furnace engineering.
Foreign steel producers were also "dumping" steel — selling massive amounts of steel at far lower prices to United States customers than domestic producers could match.
On top of that, the plant was a major source of pollution.
But the biggest problem, Maida said, remained the lack of a regional market large enough to justify USS investing in a facility that wasn't really needed in the first place.
The Minnesota Pollution Control Agency in June of 1970 asked USS to provide documentation on its pollution output at Duluth Works, giving a two-year window to implement a plan.
Rather than spend millions of dollars to improve Duluth Works, USS announced in September 1971 that it would shutter the "hot side" of operations. The shutdown permanently closed the blast furnace, the remaining open-hearth furnaces, soaking pits, and the plant's blooming and billet mills.
The rod and wire mills, fence post fabrication facility, coke ovens and cement plant remained open.
The first phase of the plant's closure resulted in 1,600 employees being let go. Just 700 people kept their jobs, Maida said.
However, in the fall of 1973, USS closed the "cold side" as well.
Several smaller companies took over the "cold side" facilities, including Hallet Wire, making steel-related products until 1987.
One year later, on Aug. 20, 1988, razing of the works commenced.
****
Maida, now of Cloquet, said while growing up near the plant, he always wondered about the buildings "behind the big fence."
When he was young and the coke ovens were still operating, Maida remembers seeing "the sides the hill turn orange," caused by the flare off of excess gas.
And the stories people told — there were always stories about the gritty cement dust that coated nearby residents' laundry hanging out to dry and employees' cars.
Some workers parked in Gary and walked across a footbridge that traversed the railroad tracks of Steelton Yard; others entered one of two entrances from the Morgan Park side.
Maida's great-grandfather, an Italian immigrant, worked at the cement plant.
"True story," he says, relaying one of his great-grandfather's favorite tales. One day — after drinking some homemade wine — the cement worker decided to paint his car black, doing so with a paint brush.
Believing the paint was dry, he parked the vehicle outside the plant, only to discover after his shift a layer of cement dust stuck to the car. Turns out, Maida said, his great-grandfather had actually used roofing tar rather than paint.
For a short time, Maida's dad also worked at the Duluth Works complex.
Duluth Works truly shaped Duluth, he said. "It made Duluth and it almost broke it."
The city was "a gritty, rich community" during the works' operation, he noted. Population had soared to 120,000. Duluth had four high schools. In fact, Morgan Park had its own.
When the facility closed, it caused "a population shift that is still felt today," Maida said. Duluth's population in 2018 was less than 86,000.
U.S. Steel's Duluth Works "was an expensive experiment," said the historian. It was a "massive plant, but a marginal performer."
Ironically, he said, the taxes USS was trying to avoid were eventually imposed anyway.
And Duluth Works was not alone in its collapse, he said. It was among other steel plants in the country that closed in the 1970s and 1980s, putting thousands of people out of jobs. The trend didn't reverse itself until the mid-1990s, when increased worldwide demand for steel, new technology and industry consolidation brought it back from near demise.
In February 2009, the State of Minnesota awarded the Duluth Port Authority a $50,000 investigative grant to determine the feasibility of re-developing a portion of the former plant site.
But as of today, the site — perhaps because of pollution concerns — has yet to be developed, Maida said.
****
Nothing is left on the Duluth Works grounds, aside from "an old retaining wall one of giant cranes sat on," and "railroad tracks that lead to nowhere," he said.
But the model railroad enthusiast brought Duluth Works back to life — in a … well, a "small" way — several years ago.
Using maps and photographs, Maida constructed a more than 20-by-6-foot "HO scale" replica of the steel mill.
The model is part of his "Trainworld," a diorama of a fictional city, complete with its own theater, newspaper, radio station, school, and pubs, some modeled after real Duluth establishments.
Maida used "everyday elements" to make the mill "look realistic" — including incorporating coffee grounds, flour, and sand; stretching Play Dough to simulate hot metal; grating coal from his barbecue grill; using cotton for smoke and steam, and integrating actual ore from the Duluth Works for the ore yard.
"It is not a perfect replica" of Duluth Works, he says. For instance, the model only has 46 rather than 115 coke ovens. "But it's one that serves it justice."
It took close to five years "to put it all together," Maida said.
But then, Duluth Works was "a sprawling" complex in its lifetime, consisting of: A 10-furnace open-hearth steel production facility; two blast furnaces; a 115-oven by-product coke plant; a benzol and toluol plant; a by-products refinery; coal and coke conveyors and crushing and sizing towers; a pig iron casting facility; a blowing house powerhouse; a Heine boiler house; fresh water pumping inlet station; a hot gas soaking pit and stripping building; a massive rolling facility consisting of a blooming mill, a rolling mill and billet finishing department; hot gas re-heating beds; a bar finishing department; fence post fabrication unit; merchant mill; wire, nail, fence and welded fabric mesh building; machine repair shop; three massive materials yard crane bridges and loading/unloading docks; a locomotive engine repair and servicing building; its own rail yard; a lab; ore and coal thawhouses; and various warehouses and other structures.
Maida's model was displayed for the public June 25-26, 2016, at the St. George Serbian Orthodox Church in Duluth's Gary neighborhood. Several hundred people, including children, families of steelworkers, and former Duluth Works employees toured the display, which included artifacts and photos from Maida's collection.
One former worker, who was using a wheelchair, Maida recalled, commented on how detailed the model was. "I walked through that door to go to work," he told the model's creator.
Maida said he had actually guessed where the door on the building was located — and according to the man, he got it just right.
The man died not long after touring the display, but not before he had the chance to see again, "in great, glorious detail," the place where he had once worked. "It was a touching thing," Maida said.
There are possible plans for the model to be displayed, one day, at the Duluth Depot museum, he added.
Duluth Works is an "important story," Maida said. "Most people don't even know it was there."
But third, fourth, even fifth generations of Duluthians and some Iron Rangers, too, would not be here today — if not for the Duluth Works.