Hibbing Taconite is scratching for ore anywhere it can.
With an estimated five years of mine life remaining, one of the Iron Range's newest taconite plants is the facility in the most danger of running out of crude ore.
A proposed relocation of a 500-kilovolt electrical transmission line along Highway 169 near Kitzville, would help – but only a bit.
Minneapolis-based Xcel Energy this year plans to submit a permit application to the Minnesota Public Utilities Commission to reroute about three miles of the transmission line it operates along Highway 169.
Rerouting the line from the west side of Highway 169 to the east side would allow Hibbing Taconite to access additional crude ore reserves west of the highway.
"We regularly work with companies, large and small, when they need our assistance," said Matt Lindstrom, an Xcel Energy spokesman. "In this case, we made an agreement in 1979 with Hibbing Taconite Company that we would relocate some of our transmission line should the day come when the need to expand their mine."
Rerouting the line will provide access to additional crude ore, but won't extent the life of Hibbing Taconite past about five years, said Chris Johnson, president of United Steelworkers Local 2705 at Hibbing Taconite.
"They've told us moving the line is already figured into the five years of remaining mine life," said Johnson.
ArcelorMittal says it continues to seek a new ore reserve.
"As a leading consumer of iron ore pellets produced on the Iron Range, the future of mining on the Range is very important to ArcelorMittal," the company said in a statement. "For many years, ArcelorMittal has operated Minorca Mine and owned the majority stake in Hibbing Taconite, assuming the role of managing partner in August 2018.
We are actively working on efforts to ensure the long-term supply of quality iron ore from both Minorca and Hibbing Taconite to our key operations in the United States. We are aware of the proposed reroute of a 500-kilovolt transmission line in Hibbing. This reroute has been, and continues to be, embedded in our current mine plan."
The Manitoba to Chicago County transmission line does not provide electricity to Hibbing Taconite. Minnesota Power supplies electrical power to the taconite plant.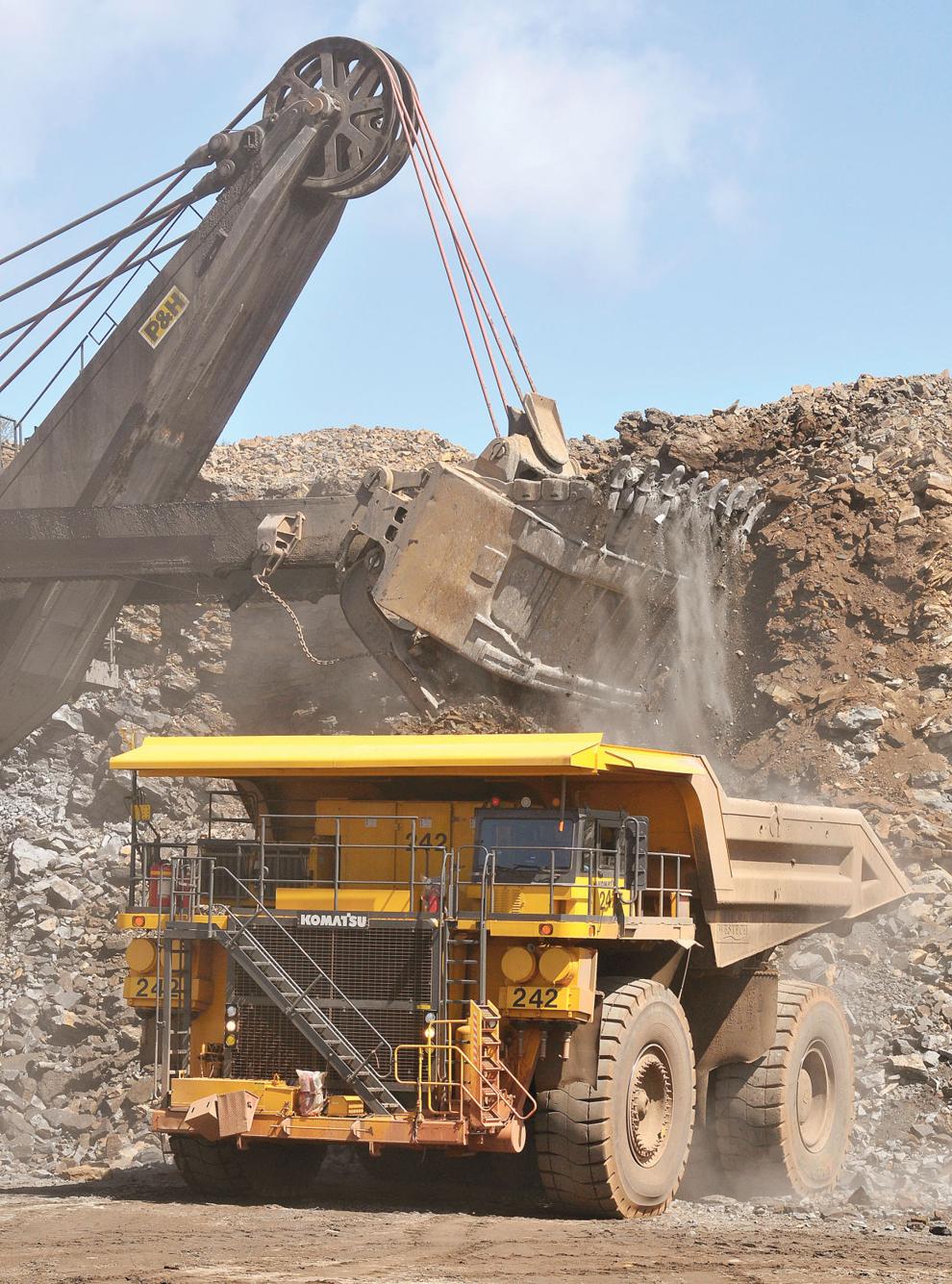 If approved by the Minnesota Public Utilities Commission, construction on the $15 million reroute would begin in 2021 and be completed by the end of that year.
The project would remove and replace approximately 13 steel lattice towers. About 40 construction workers will be required for the reroute. Xcel Energy is paying the rerouting costs.
"Obviously, moving a line requires planning and coordination, so we've been working with local leaders, industry representatives, landowners and other stakeholders for the past two years on this project," said Lindstrom. "The relocation will allow Hibbing Taconite to expand their mining operations in the area west of Highway 169."
Hibbing Taconite opened in 1976, making it the most youngest taconite plant operating on the Iron Range. In 2018, it produced 7.8 million tons of iron ore pellets.
Hibbing Taconite is co-owned by ArcelorMittal (62.3%), Cleveland-Cliffs (23%) and United States Steel Corporation (14.7%).
The taconite plant's economic impact on the Chisholm-Hibbing area and the Iron Range, is huge.
With about 735 employees, Hibbing Taconite has an annual payroll of $107 million, including benefits. The mine spends $314 million a year on local services and supplies, generates $28 million in local taxes and taconite taxes, and has a total annual economic impact of $449 million.
Johnson says a larger source of crude ore is needed soon.
Without a new reserve, Hibbing Taconite runs out of ore in the first quarter of 2025, said Johnson.
"They're not telling us anything," Johnson said about internal discussions to secure more ore. "They're keeping it hush-hush. All we know is that there a reserve over by Buhl and Kinney owned by U.S. Steel that ArcelorMittal wants and there's some land over here that U.S. Steel wants. If we don't get that land deal done, we're in trouble."
Hibbing Taconite's iron ore pellets feed ArcelorMittal's Burns Harbor steelmaking facility in Burns Harbor, Indiana, said Johnson. Using two blast furnaces that can produce five million tons of steel per year, it's ArcelorMittal's second-largest facility in the United States.
"If we shut down, Burns Harbor shuts down," said Johnson. "I have a hard time believing they would allow that to happen."
Hibbing Mayor Rick Cannata said securing new ore reserves is critical to Hibbing Taconite and the entire Iron Range economy.
"Anytime you have the possibility of a mine closing down, it affects not only Hibbing and Chisholm, but everyone across the Iron Range including all the vendors," said Cannata.
Yet, with the transmission line reroute, even a small expansion of the mine near Highway 169 would help local communities.
"Balkan Township would receive a boost in production revenue," said Peter Clevenstine, Balkan Township board chair. "For Balkan Township, it would be significant and very helpful."
Balkan Township has a long history of mining, said Clevenstine.
"There were 20 mines in Balkan Township when the township was founded in 1911," said Clevenstine. "All told, there were 45 mines operating in the township from 1904 until the time when the Sherman Mine closed with almost 350 million tons of ore mined."
Meantime, Hibbing Taconite employees remain unsettled about their futures, said Johnson.
"Everybody out at our place is wondering what's going on," said Johnson. "People are coming up to me every day saying, 'I've been offered a job with the trades and I don't know if I should go.'"