CHISHOLM — The Minnesota Discovery Center grounds are located at 1005 Discovery Drive in Chisholm. The campus is located on formerly mined land and is supported in part by the Department of Iron Range Resources & Rehabilitation (IRRR).
The Minnesota Discovery Center is a nonprofit institution and the state's largest museum complex outside of the Twin Cities metro area. "We are all about the land, the mines, the people and the work of the Iron Range region of northern Minnesota," proclaims the organization's website.
It comprises a museum, research center and park which now features a world-class mountain bike trail system. Together, the property encompasses 660 acres and a 33,000-square-foot facility that: houses artifacts, examines mining methods, explores regional geology and hosts traveling exhibits that help illuminate the spirit and sensibilities of Iron Range pioneers and their descendants.
The Minnesota Discovery Center highlights the story of immigration to the region, many of whom found work in the iron ore industry, through exhibits, interpretation, programming and research materials.
"Minnesota Discovery Center aims to educate and inspire people of all ages through celebration of the past, present and the future of the Iron Range," states the website. "As a community asset, Minnesota Discovery Center is responsible for preserving and enhancing the integrity of the assets we manage and telling the story of Iron Range history through exhibits, activities and trove of information in our Research Center."
As with every business and person across the United States, The Minnesota Discovery Center, too, was affected by the COVID-19 pandemic which during the Stay-At-Home state order, closed its doors for three months.
"We just got the green light to reopen as we fit into the entertainment class," explained Executive Director Donna Johnson at the center last week. "We were able to keep all our staff employed and working remotely," Johnson added, giving huge credit to donors. "We had to cancel all our venue events."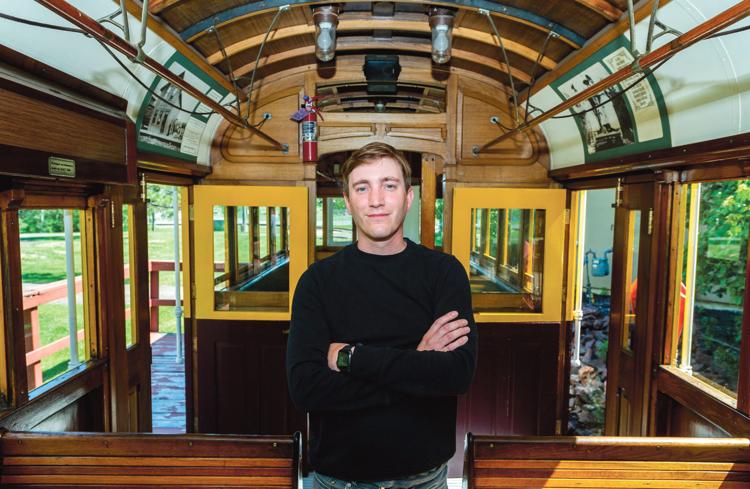 The Minnesota Discovery Center is a non-profit and depends on revenue.
"We wouldn't have been able to keep our staff employed without the support of our members, donors and local groups like the Chisholm Community Foundation and large businesses like Minnesota Power and ArcelorMittal," said Jordan Metsa, the Discovery Center's fund development and marketing coordinator.
"We were able to keep locals employed," said Johnson proudly. "We encourage our community members to make us their stop, their retailer, their restaurant and experience. We want this place to enhance the quality for community members."
Metsa sat across from Johnson and they fed off of each other's excitement as they discussed the Minnesota Discovery Center.
"It is our responsibility to preserve this place and learn from it today," Metsa said, "then enhance, grow and further build it for the future."
He pointed to the new trails as a peek (or peak — pun intended) into their future. Johnson brought to mind our youth, our future, and what experiences they missed out on while the center was closed.
Johnson explained how the summer is ushered in annually by the end-of-year field trips and Iron Range Science in Engineering Festival where students fill the campus.
This year was different.
Slowly, businesses across the state are opening back up and that includes the Minnesota Discovery Center. The museum is approved at 25 percent capacity, the trolley is limited to 10 passengers and venue events can host up to 250 people.
"With 660 acres it is easy to social distance," quipped Johnson. "...As we learn it is safe to do so, we will bring back live events and increase capacity."
Redhead Mountain Bike Park
"A lot of volunteers and volunteer hours and passion went into making this trail happen," said Johnson, thanking members of the Iron Range Off-Road Cyclists (IROC), many of whom donate their time to creating and maintaining the trails.
Construction on the Redhead Mountain Bike Park began July 2019. Originally, it was planned to be completed by fall 2020, but this has been pushed back to 2021. It is now open but only about half the trail system is ready for use.
"The mountain bike park is being constructed amidst a chain of played-out former natural iron ore pits near the Minnesota Discovery Center alongside Highway 169 in Chisholm," according to a 2019 article for Business North. "Containing clear blue water, the string of mine pits at one time included the Pillsbury, Glen, Leonard, Leonard-Burt, Monroe-Tenner, Dunwoody, and others."
The Redhead Mountain Bike Park is located on 1,225 acres of inactive mine land. It is located on the Biwabik Iron Formation, near an active taconite mine.
"We have repurposed an old mining pit and created this beautiful space, with breathtaking views, a birch bark forest, and stunning waters," said Johnson, explaining the new trail. "We want to bring more interpretation and history by using signage along the trail system — like an educational bike tour."
Interpretative signage along the trail is planned to reflect the history of Iron Range mining and of the land. Images of bikers, drinking water while resting next to a sign explaining a piece of Minnesota history or geology flits across the mind of the staff.
"This weekend, I met people using these newly-opened trails and having their first exposure to the mining industry and a pit," said Johnson following the soft opening of the trails in mid-June. "We want to take the inspiration they found in nature and follow it up at the museum to teach about our region and its history."
Johnson was excited about the impact the Discovery Center is making in, not just tourism, but education. "The economic impact to the local Chisholm downtown with Redhead is exciting. There are new businesses already coming in that will offer bike rentals, next year."
For those needing to repair their bike, the Miner's Daughter Gift Shop offers both tools and parts.
It had been planned to open an onsite repair shop, 30West, and an in-town based bike rental company, Ardent, but due to COVID-19 disrupting supply chains, the opening of these amenities has been delayed. It is expected they will be open and fully operational in 2021.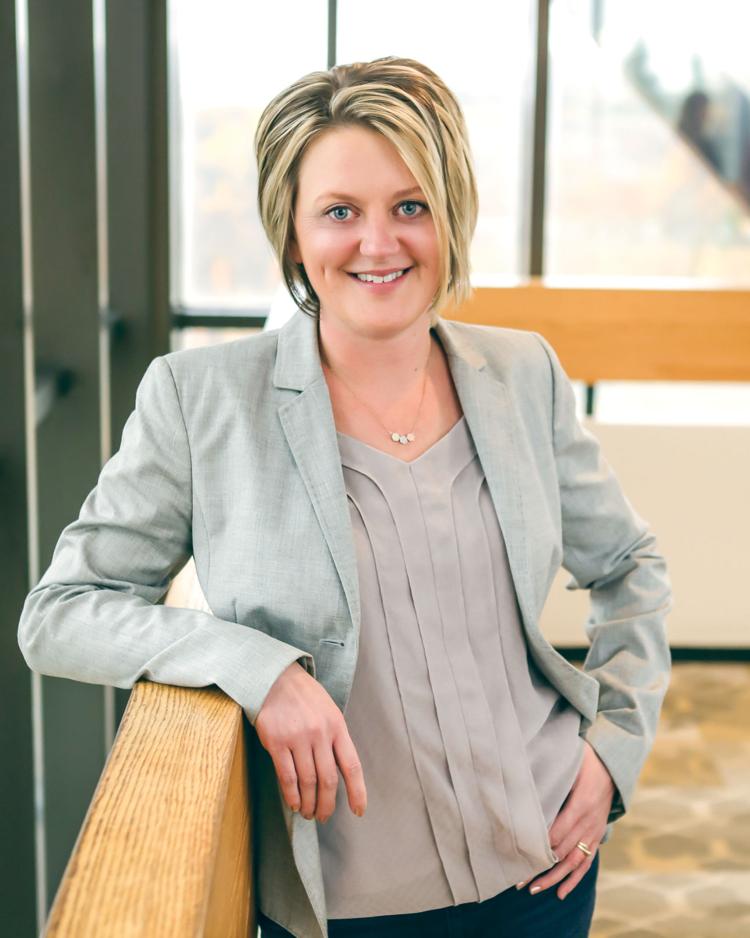 The Redhead Mountain Bike Park is a full-family experience with trails of every experience level and with a great location, complete with a stunning view.
"A view like the Grand Canyon right outside a town of 3,000," said Johnson in awe of what can be found on their campus.
"You can come here and mountain bike, travel 5 miles to the paved Mesabi Trail, then go to the gravity trails at Giants Ridge," said Metsa explaining how these not only increase the livability of the area but also spur economic growth. "This is mining tourism at its finest."
Johnson explained that the Minnesota Discovery Center and Chisholm have turned into a destination with a variety of activities.
"We don't just want people to come here for the day," said Johnson. "We want them to stay the whole weekend."
The concept of mining tourism is not a new one and is reflected on the Cuyuna Range, another iron formation in Minnesota.
Similarly built at an iron ore mining location, the Cuyuna Mountain Bike Trail System, which is part of the Cuyuna Country State Recreation Area, was built adjacent to Crosby and Ironton, on the Cuyuna Range.
Johnson points to that development's success when discussing the future potential of the Redhead. "Cuyuna Mountain Bike Trail System has brought in an additional 40,000-plus people to that area, a year. Similarly, I hope we double our attendance in the summer. This will trickle down to the rest of the industries in the area."
Johnson said that they want to give people a reason to come to Chisholm to visit and experience the Iron Range, that they might not have had before.
"The goal of the [Redhead] Project is to construct high-quality, professionally designed, flow mountain bike trails that take full advantage of an interesting and topographically diverse setting," states the Environmental Assessment Worksheet of the Redhead Mountain Bike Park, prepared for the IRRR. "Because the Project will be constructed on a land formation that is an inactive mine pit, riders will begin riding at the rim of the mine pit, descend to the bottom, and at the end make their way back to the top. Four separate mine pit lakes exist at the bottom of this mine pit. The lakes, steep slopes, and areas of limited vegetation give the mine site the look and feel of a canyon."
The Redhead Mountain Bike Park is now open and the world-class mountain bike park has a 15.3 miles, sing-track, completed and looped trail system which is open to the public from dawn to dusk. The park is free and open to the public.
"The Project is intended to improve the overall economic development vitality, quality of life, individual wellness and health, and prosperity of the region," states the worksheet. "The Project will address the regional need for a high-quality, non-motorized, and multi-use recreation area to serve the population of long-term residents and as a draw for year-round visitors."
To maximize the trails' durability, sustainability and safety, they have been designed in accordance with the International Mountain Biking Association's professional design guide. The rider experiences the beauty of traveling over the region's natural iron ore which has the bonus of allowing easy drainage. This allows riders to use the trails in times when it might have been closed.
Trails range in difficulty from beginner to expert with an array of terrain features for riders to test their skills.
The Redhead Mountain Bike Park is slated to be completed in 2021 with a total of 25-30 miles of state-of-the-art trails.
The trailhead for the Redhead Mountain Bike Park is the Minnesota Discovery Center Summer Entrance. Riders will have access to free parking, restrooms, gift shop and food court where grab and go options are available. Facility hours are the same as general admission.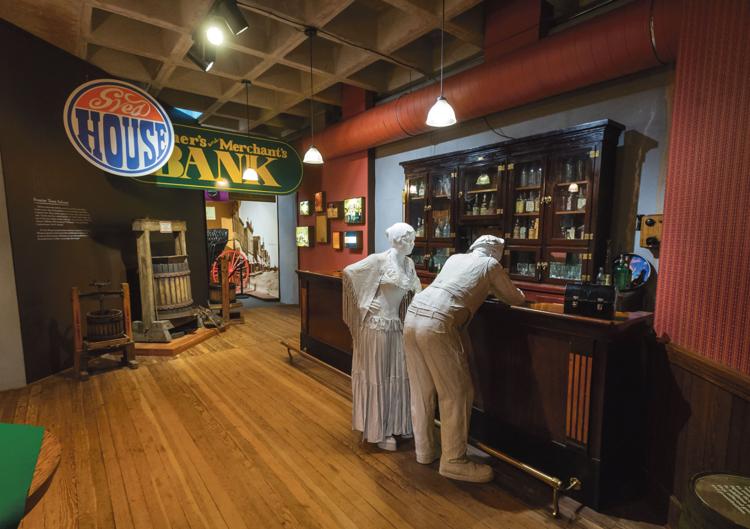 In the future, trailhead facilities may include shower/changing facilities, restrooms, parking, information kiosk, picnic shelters, bike repair station and boot brushes and bike wash station.
Additionally, there are currently one portable restroom at the trailhead and one at the Glen Location.
Although motorized vehicles are not allowed, most trails allow for walking/hiking, but not all. Be sure to check the signage before starting.
It is yet unknown if Redhead will be open in the winter months, although Johnson said it is planned to potentially groom the trails for fat tire winter biking.
A free app, called Trailforks, allows riders to report any issues you may find on Redhead. Trails are inspected weekly by IROC volunteers but reports through the app allows for quicker fixes.
Currently, there is no camping at the Minnesota Discovery Center, although this is something Johnson said they plan to look into for the future. The City of Chisholm has a campground which is open for the season. There is also the Chisholm Inn and Suites available to those visiting from outside the area.
The Redhead Mountain Bike Park is a cooperative effort between the Minnesota Discovery Center, City of Chisholm and IROC. Funding for the tail system came from IRRR.
The IRRR utilizes taxes generated by the local mining industry with the mission "to invest resources to foster vibrant growth and economic prosperity in northeastern Minnesota," states their website. One part of their mission is to "enhance livable communities," which the Redhead Mountain Bike Park aims to do.
The agency invested $1.777 million in the Redead project for planning, design and construction and the investment seems to be a good one as bikers are already visiting the area specifically to ride Redhead.
"We are getting tagged right now by bikers," said Metsa scrolling down a social media news feed. "They are out there right now enjoying our new trails."
Admission
"We ask for people to not only discover us," said Metsa, "but to re-discover us at the Minnesota Discovery Center."
One of the many highlights to the Minnesota Discovery Center is the Museum. This award-winning 33,000 sq ft. museum offers permeate and traveling exhibits.
Museum admission is $9 for adults, $8 for seniors and military members, $5 for ages 3-17 and free for children under two who are accompanied by an adult. A little known bonus for museum visits is that it is free every Thursday from 3-9 p.m.
As of June 12, the Minnesota Discovery Center is open for summer hours. General admission hours are: Tuesday-Wednesday 9 a.m. to 5 p.m., Thursday-Saturday 9 a.m. to 9 p.m. and Sunday noon to 5 p.m. The campus is closed on Monday.
The Minnesota Discovery Center has both day and membership rates.
With a membership, you get free, unlimited general admission year-round, special event announcements and discounts, including a 10 percent discount in the museum gift shop and reduced rates on trolley tickets and mini-golf.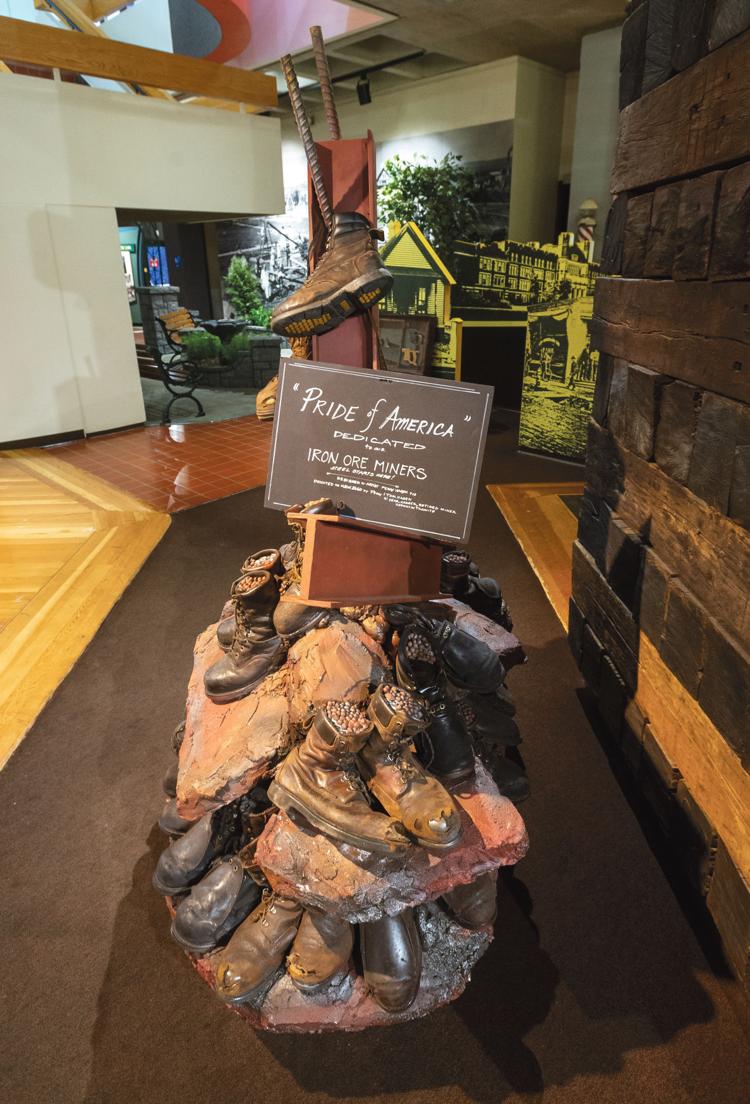 An individual membership is $20. A family membership, including up to two adults and eight children or grandchildren under the age of 17, is $40. The Discovery Pass is $99 and, along with a family membership, this level allows you free, unlimited trolley rides and mini-golf throughout the summer and snowshoe rental in the winter.
Trolley tickets are $4 per person, plus admission, or $3.50 for members. Children under 2 who are accompanied by an adult ride free. Due to COVID-19 guidelines, the trolley is limited to a maximum of 10 riders. Trolley run times are: Tuesday-Wednesday 11 a.m., 1 p.m and 3 p.m.; Thursday 11 a.m., 1 p.m, 3 p.m and 6 p.m.; Friday 11 a.m., 1 p.m and 3 p.m; Saturday 11 a.m., 1 p.m, 3 p.m and 6 p.m.; Sunday 1 p.m. and 3 p.m.
The Minnesota Discovery Center offers a mining-themed 19-hole miniature golf course. "Putt your way through holes like Blasting, Crushing, Grand Canyons, and more!" states the website. Mini-golf is $4 per round, plus admission, or $3.50 for members.
It offers group discounts including trolley charters for $150 per run, with a capacity of 48 riders (although this is limited to 10 due to COVID-19 guidelines). There is also discounted admission costs for groups of more than 10.
Iron Range Research Center
Located inside the Minnesota Discovery Center is the Iron Range Research Center which has one of the largest collections of genealogical and local history materials in this part of the country.
The Iron Range Research Center is a 14,000-square-foot facility that includes a special library and archives that collects historically significant written, oral and visual records of Minnesota's Iron Ranges and the Taconite Assistance Area. This center is a destination for anyone seeking regional genealogical data. The archive is a sanctioned government records repository and it includes a range of items including records from local and regional units of government, personal and family papers, organizational and corporate records, topographic and mining maps, photographs and regional oral histories. The Iron Range Research Center contains more than 7,000 volumes in the library and over 4,000 items in its collection.
The library is part of the Arrowhead LibrarySystem and many of its resources can be checked out to ALS cardholders.
"We are working on a lot of online requests and remotely assisting our researchers right now," said Johnson. "Our staff is working daily to digitize our collection. They have stayed busy as the requests we have received have stayed consistent throughout the pandemic."
The Minnesota Discovery Center's website, which features parts of the Iron Range Research Center's information, is one of the ways the organization is moving to the future. "We are talking with donors and thinking about how we can reposition ourselves to be more relevant now and into the future," explained Metsa. Much of the Iron Range Research Center's data will be put online but there will also be museum virtualization, online classes and more. "The idea is to put all the content online and make it available to more people than just those who can visit us.
There is no admission to the Iron Range Research Center but due to COVID-19 guidelines staff assistance is required. The Iron Range Research Center is open by appointment only, Tuesday-Saturday 10 a.m. to 5 p.m. Call ahead to set up an appointment; 218-254-7959. Online documents and ordering is available.
Gift Shop
The Miner's Daughter Gift Shop is open to the public with no admission charge. This shop offers bike repair tools and parts to support those adventuring on the Redhead Mountain Bike Park. Alongside Discovery Center gear, is Iron Range clothing, made in Minnesota items, educational toys and items for train enthusiasts.
Demonstrators
Normally, throughout the summer live demonstrations are offered every Friday and Saturday. The Minnesota Discovery Center hopes to offer these programs again, as soon as COVID-19 guidelines allow.
Rustic Pig Restaurant
The Rustic Pig Restaurant has moved to the Food Court and is open for business. As per COVID-19 guidelines, the Food Court will be operating at 50 percent capacity. The food court allows 6 feet of spacing between tables and a mouth watering and thirst quenching summer food and beverage menu.
"We are working to get a food truck for our parking lot," said Johnson.
An old trolley bus is being renovated for this project. This food truck will provide service daily for bikers and visitors.
To reserve a table or for a pick-up order, call 218-254-7959. Food Court hours are Thursday-Saturday noon to 8 p.m.
Snowshoeing
Throughout the long Minnesota winters, the Minnesota Discovery Center offers snowshoeing opportunities through self-guided, guided and private tours.
Regular admission is $9 for adults, $8 for senior and military members, $5 for children ages 3-17 and free for children under 2 who are accompanied by an adult. Snowshoe rental is $5. You can also use your own. Admission and snowshoe rental is free to members.This will allow you to explore the park on your own, during open hours.
Guided tours are offered Thursday from 5:30-7:30 p.m. and Saturdays from 2:30-4:30 p.m. Fees include tour and snowshoe rental at $13 for members and $15 for non-members. To reserve your spot, call 218-254-7959. Tours are cancelled if temperatures exceed below zero fahrenheit.
Private guided tours are available upon request by contacting Program Coordinator Paul Gunter at 218-254-1236 for fees and arrangements.
Contact
For questions or more information call the Minnesota Discovery Center at 218-259-7959, send an email to info@mndiscoverycenter.com, a message on Facebook. While riding the Redhead share your experience by tagging @mndiscoverycenter on Facebook and @MNDiscoeryCtr on Twitter.
More information on IROC can be found on their website at irocmtb.com.