It's a little known source of school funding, even among some who receive it.
Mining in northeastern Minnesota, through the Permanent School Fund (PSF), provides funding to every school district in the state of Minnesota.
Since its inception in 1858, the PSF, under state law, has distributed millions of dollars to school districts across the state.
Over the past 10 years, the fund has paid $260 million to 337 public school districts across the state.
Northeastern Minnesota mining generates nearly all of money that goes into the fund's corpus.
However, by state law, a majority of the proceeds go to large enrollment school districts, a vast majority which are outside northeastern Minnesota.
Of $31 million distributed in 2017, 52% went to metropolitan area school districts, according to Aaron Vande Linde, director of Minnesota School Trust Lands.
That's because public school districts receive PSF funding based on student average daily membership.
Simply put, it means that schools with large enrollments receive more PSF money than schools with small enrollments.
"That's kind of the irony of the whole system," said Steve Giorgi, executive director of the Range Association of Municipalities and Schools (RAMS) in Mountain Iron. "We produce the revenue and most of the money is directed to Twin Cities districts."
Mining, through mineral leasing and royalty payments paid for mining on state school trust lands, has generated nearly $1.1 billion, or about 80 percent of the current $1.37 billion fund balance.
Distributions are made to school districts from interest and dividends earned on the fund balance.
Over the past five years, the amount distributed to the state's public schools has ranged from $28.72 to $36 for each average daily membership.
United States Steel's Minntac Mine in Mountain Iron, North America's largest iron ore pellet plant, annually produces about 90 percent of the revenue that goes into the fund, said Vande Linde.
The Mountain Iron-Buhl public school district, home to Minntac Mine, in 2017 received $17,831.26 in PSF money to support the district and its 501 students, according to the Minnesota Office of School Trust Lands.
On the flip side of the coin, the Rosemount-Eagan-Apple Valley public school district in 2017 received $974,862.29 for 27,525 students.
"It's a very skewed formula, no ifs, ands, or doubts about it, when you have most of the revenue coming from here" said John Klarich, Mountain Iron-Buhl school superintendent. "I understand what they're trying to do, but it should be weighted in favor of where all the revenue is coming from."
The Virginia public school district, adjacent to Minntac Mine, received $59,747 in 2017 for 1,687 students.
"There's not a lot that comes back here (northeastern Minnesota, because there's not a lot of students here," said Vande Linde.
Virginia's payment is small compared to that of larger districts, but is vital to the district, say school officials.
"It's very important," said Tom Tammaro, chair of Virginia's school board said of the distribution. "It funds another staff member."
Virginia Superintendent Dr. Noel Schmidt says the distribution is critical revenue.
However, some districts which may have the ability to raise funds in other ways, receive large PSF distributions, said Schmidt.
"Some of the districts are wealthy and have a large tax base, so it doesn't make a lot of sense to be giving money to those districts who don't have trouble raising money." said Schmidt. "I'm still waiting for the check from revenue from the Mall of America to reach us."
Klarich said he's not advocating that all the money produced for the fund from northeastern Minnesota should stay where it's generated, but says the distribution formula should be more equitable.
"I don't see any special revenue from other areas of the state coming here," said Klarich. "We don't get money from farms."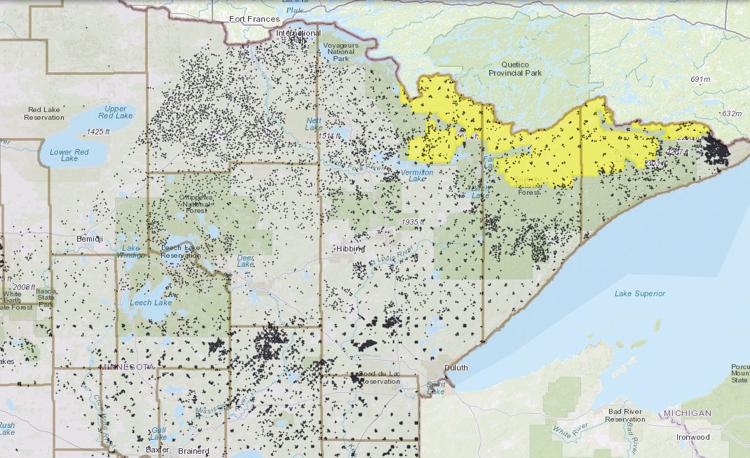 PSF – what it is
Under the Organic Act of 1849, the territory of Minnesota was created and sections 16 and 36 in every township were reserved for the purpose of providing a source of revenue for schools.
The Enabling Act of 1857 granted the total amount of land set aside to support public education, about 2.9 million acres, to the state from the federal government.
Along with voting to adopt its state constitution, Minnesota citizens on Oct. 13, 1857, accepted the land grant for the use of schools and the Minnesota Constitution established the PSF. The goal was to set aside school trust lands that would generate revenue for the state's public schools, providing a long-term source of funds for public education in the state.
Today, the State Board of Investment invests the PSF principal, from which the interest and dividends are distributed to districts.
Distributions are made semiannually to Minnesota school districts based on average daily membership and the size of the fund. Payments to districts are made on the first Monday in September and the first Monday in March.
Revenue for the PSF comes from from mining leases and royalties and also from forestry management activities and real estate transactions on school trust lands.
But mining is the biggest producer for the fund.
In fiscal year 2016, Minntac Mine generated $21 million of the $25 million in net revenue deposited the fund, said Vande Linde.
Yet, many state school districts know little about the PSF and the source of the money they get each year.
"Most school districts don't even know what school trust lands are," said Vande Linde.
PSF funds are in addition to the regular general education funding provided to each district in the state.
According to the Minnesota Office of School Trust Lands, districts can use PSF funding for educational supplies, designing and modeling school curriculum, teacher salaries, extracurricular activities, establishing and maintaining quality facilities, or other uses.
School districts which receive large distributions from the fund benefit greatly from the fund, said Giorgi.
"It's important to the large districts," said Giorgi. "They are able to hire teachers and the funding is non-discretionary, so when a district does have a significant need, they can utilize it. For most of the smaller districts, it's insignificant."
School Trust Lands
In the late 1800s and early 1900s, there was school trust land in each township throughout the state.
But today, the vast majority of school trust land is in northeastern Minnesota.
"There's maybe only a few hundred acres of school trust in the metro area," said Vande Linde. "And because of the fertile ground in southern Minnesota, most of the school trust lands there were sold to pioneers moving to the state between 1858 and 1933."
Ninety-two percent of Minnesota's school trust lands are today located in ten northeastern Minnesota counties, said Vande Linde.
The trust currently holds 3.5 million acres of mineral rights in the state, including 2.5 million total acres of unified surface and mineral rights and one million acres of severed mineral rights, where the state owns the subsurface rights, but not the surface rights.
Of the 2.5 million acres of unified surface and mineral rights, 2.2 million acres are in the Arrowhead region.
Additionally, the trust also holds approximately 1.5 million acres of forest lands.
Beyond iron ore mining, new mining projects could grow the fund and provide more money to state schools.
If Twin Metals develops its copper, nickel, platinum, palladium, gold and silver mine between Babbitt and Ely, the project would produce an estimated $3 billion for the PSF, said Giorgi.
RAMS, said Giorgi, has also been involved in discussions about how to increase the PSF's rate of return, which would create more funding for all school districts, said Giorgi.
A number of new strategies to grow the fund are possible, though it might not result in an increase in distributions, said Vande Lind.
Among the strategies are reducing operating expenses, identifying new revenue opportunities, expanding mineral development, renegotiating mineral royalty rates and modifying the financial asset mix to spur investment growth.
Local trust land uses
Beyond minerals, forestry and real estate, a number of recreation areas have been developed in the Iron Range area on school trust land.
Near Cohasset and Grand Rapids, the 460-acre Tioga Recreation Area continues to grow.
The area already includes a fishing pier, a day use area, changing shelters, picnic tables, parking and road improvements. Walking, trail running, swimming, kayaking, and stand-up paddle boarding are also available.
A 25-acre mountain bike park is being constructed within the area, mostly on school trust land.
A Minnesota Department of Natural Resources analysis determined that additional development of the recreation area is in the best interest of the school trust because it will secure maximum long-term revenue through a 20-year use agreement with Cohasset and Grand Rapids.
At the Sax-Zim, midway between the Iron Range and Duluth, a wetland mitigation site (wetlands bank) was created under a school trust land exchange involving the Conservation Fund, St. Louis County and Ecosystem Investment Partners, a private, non-profit. Under the deal, the school trust received 5,700 acres of productive forestland in exchange for the bog land at Sax-Zim.