"They poured the sweat from their brows and the love from their souls to support their families. And they love their country. "
It's the voice of President Donald Trump.
It's the voice of President Trump speaking about America's steelworkers in a new iron and steel industry campaign.
"Keep America Iron and Steel Strong," is a online, digital advertising campaign launched by a coalition of American iron and steel producers.
The campaign underscores the importance of the domestic steel and iron ore industry to the nation's economy, security, the industry's investments in the future, and the positive impact that steel tariffs have had on the industry.
It also applauds actions taken by the Trump administration in supporting America's iron and steelmakers.
"We're fighting to protect American iron and steel," says Trump in the industry's video during one of his rallies. "We need steel mills for national security."
A narrator in the video picks up where Trump leaves off:
"American iron and steel built this country," says the narrator. "Unfair trade nearly wiped us out. But now, American iron and steel are back. Our economy is stronger. Our country is safer. The American iron and steel industry is investing in the future. And our iron ore pellets have made American steel the most environmentally compliant in the world. Tell our leaders in Washington to keep American iron and steel strong."
The steelmakers in August launched the campaign to call attention to the iron and steel industry's economic impact and its importance to the U.S. economy.
Iron ore producer Cleveland-Cliffs is one of the companies supporting the campaign, through digital ads, YouTube, Facebook, and social media.
"It's an opportunity for the industry to really speak out a bit," said Patricia Persico, Cleveland-Cliffs director — corporate communications. "We want to let people know that we're thriving, that the industry has re-opened facilities, they're investing in new facilities, and they're expanding existing facilities. There's a stat of over six billion dollars worth of those sorts of things going on over the past year."
As part of the campaign, Cleveland-Cliffs is focusing on spreading the message where it has operations, in Minnesota, Michigan and Ohio.
The campaign runs through October.
Heading into November's election, it's meant to be a reminder of how the industry has strengthened under the Trump administration.
With the domestic steel industry hurt by a flood of foreign imports, Trump in March placed a tariff of 25 percent on foreign steel imports.
The campaign recognizes the Trump administration's action to help the industry and the results. "Before this started, we as individual companies spoke out pre-trade tariffs and this was a way to kind of bring it all together in solidarity and to send a message to folks that as a result, this is helping the industry," said Persico. "This sort of activity has strengthened the industry. For us, it's strengthened our customers overall holistically, and we want to show that it's important to us at Cleveland-Cliffs."
When Trump was in Duluth this summer, he acknowledged in conversations that America's steelmakers have been on an uneven playing field, said Kelsey Johnson, president of the Iron Mining Association of Minnesota.
"When I talked to him, our primary conversation was that they implemented tariffs and that after many years of asking for a level playing field, we finally got it," said Johnson. "To have this president acknowledge it was a really important step in the process. I just thanked him for the Section 232 investigation which said steel is critical to our national security and said there's a different tone on the Range since then. There's a lot of optimism and that's translated into more economic activity."
A number of domestic steel and iron companies joined to launch the campaign, said Lisa Harrison, American Steel and Iron Institute (AISI) senior vice president, communications.
The campaign's first phase was directed at the Washington D.C., area, Congress, and Congressional staff.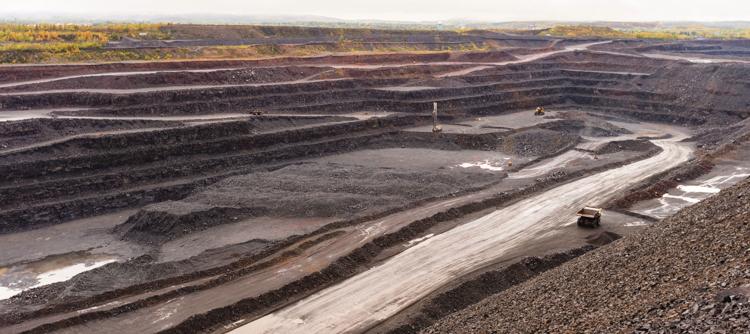 A second phase localized the campaign to iron and steel regions throughout the country.
"AISI supports the campaign and we have actually amplified the messages on our social media," said Harrison. "I think the reason for the campaign is the unfair foreign trade practices risked national security and they've caused plants to be idled and jobs to be lost."
Repeated surges in unfairly traded steel imports fueled by excess global capacity threatens the viability of the domestic steel industry, said Harrison.
However, the tariffs have been key in helping the industry rebound, said Harrison.
"The President's actions on the tariffs are working," said Harrison. "Imports actually are down about 20 percent from when the tariffs were enacted in April through July, which is the last available time from the Department of Commerce."
Trump, addressing a new U.S. trade agreement with Mexico and Canada in an October 1 press conference at the White House, said he plans to continue to support America's iron and steel industry.
"We are not going to allow our steel industry to disappear," said Trump. "It was almost gone. If our country had kept going the way it was, within two years you wouldn't have a steel industry."
Trump said countries like China and others have been dumping massive amounts of "dead steel."
"It's also imperfect steel," said Trump. "Inside that steel was a lot of bad things that made for a weaker steel. Just so you understand what was going to happen – they were going to knock out every steel plant we have and then double and triple prices and we wouldn't have been able to do anything about it."
Steel tariffs will remain in place until perhaps an alternative such as quotas can be negotiated, said Trump.
"I don't want plants closing," said Trump. "They're hiring thousands of workers all over the country. I'm not giving that up."
Harrison cited the restart of U.S. Steel's Granite City Works in Granite City, Illinois, an increase in steel prices, and improved capacity utilization rates at domestic steel mills, as signs that the tariffs are working.
Granite City was idled from Nov. 2015 to March 2018, putting about 2,000 employees out of work. A downturn in the oil and gas industry, coupled with steel imports, was blamed for the idling. With the restart of a second furnace expected earlier this month, about 1,500 employees will be back to work at the steelmaking facility.
U.S. Steel's Keetac taconite plant in Keewatin, which has provided iron ore pellets to Granite City, was idled from May 2015 to January 2017. About 350 Keetac steelworkers are today working at the plant.
Capacity utilization rates measure how much of a steel mill's capacity is operating.
"Part of the President's goal in implementing tariffs was to get the utilization rate up to 80 percent," said Harrison. "It's now at 78.4 percent, which is the highest level in four years. People are going back to work."
Visit the campaign web site at: http://keepamericasteelstrong.com/iron/