IRON RANGE — An art workshop recently toured the area as a way for community members to reflect and process mining's impact on their lives.
Felt Here is a pop-up collaborative public art and storytelling project and workshop that is part of the public storytelling project Overburden/Overlook which "explores overlooked stories of women, work and water in northeastern Minnesota."
The project team for Overburden/Overlook includes Dr. Roopali Phadke and Shanai Matteson.
The artist and project leader for Felt Here, Matteson has been traveling throughout the Iron Range the past few months holding workshops at community events and in public spaces. A few of her stops included The Hive in Aurora, at the Lyric Center for the Arts during Bridge Daze in Virginia and at the Pasty Festival in Mountain Iron.
"We create things using material from across the Iron Range, and we give these things away to people or place them in meaningful public locations," Matteson explained. "Right now we are making felted wool taconite pellets — small beads that look like taconite pellets — but are made from wool that has been dyed with red earth gathered from mining sites, and felted by people joining the workshop. We also have been dyeing fabrics and printing them to make flags and banners and other things that express our relationships with the region, with work, with stories about craft and land and place."
There are many goals of the project including storytelling and engaging with native materials. Participation is open to anyone and everyone, but the experience is particularly focused on women.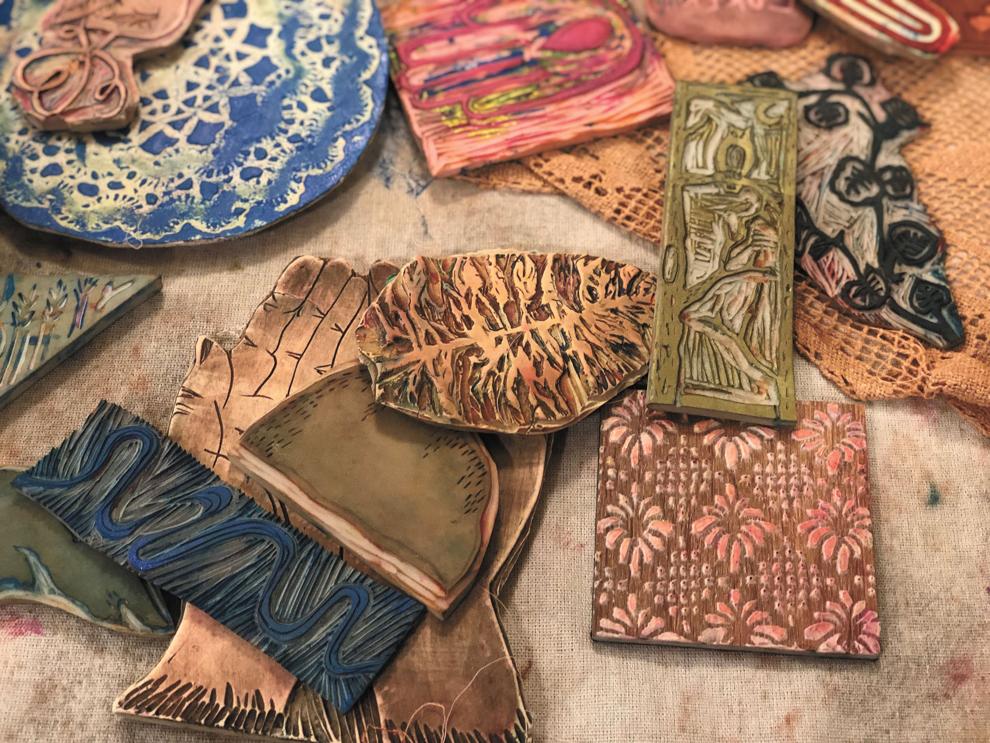 "The pop-up was imagined as a space that would also purposely provoke stories about women's relationships with Iron Range places and communities, with work and with creativity, and with the sometimes-overlooked or undervalued labor of caring for families, places, communities," she said. "In most of the workshop spaces we create, women are the ones prompting and sharing their stories as they visit with others."
Oral histories are encouraged to be shared to prompt any healing that needs to be done.
"We are all carrying a lot of stories that we don't think have a place, but once people start sharing stories it encourages others to do the same — and suddenly, we are recognizing ourselves as part of a whole community."
Through sharing their stories, people are forced to reexamine that time in their life or recognize how the environment and culture of the Iron Range has affected them.
Matteson is still open to holding Felt Here workshops, although there are none currently scheduled.
During the coming winter, Matteson is gathering a group of women with different experiences to create fabric patterns and story quilts to represent their histories on the Iron Range. These will be exhibited at the Lyric Center for the Arts in June 2020 and possibly touring the area that fall.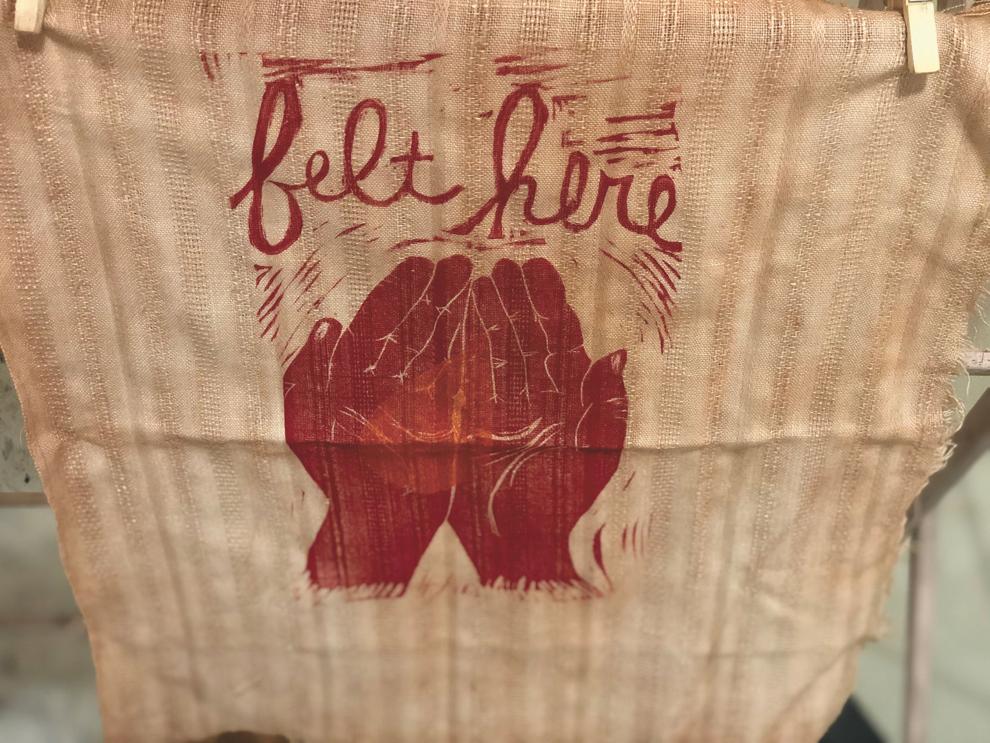 Overburden/Overlook
"I invited Shanai to collaborate on my mining research in 2016," said Phadke over email. "She had already been thinking about moving some of her work toward the region. We made several research trips together where we did site visits and interviews with all kinds of stakeholders. Out of this came our Overlook/Overburden project. I've also attached a description of that project. Felt Here was imagined as a first stage of this larger project where we began drawing in local stories and storytellers."
Felt Here is part of the larger project Overburden/Overlook.
In the project description, the title is explained. "Overburden is a mining term used to describe material that lies above an area targeted for extraction. It is also a term that might be applied to human communities living above and around minerals of economic value."
Just as the word overburden has a double meaning, so does overlook.
"It is commonly known as the place from which viewers can take a commanding position above the landscape. As a verb, overlook also reminds us of that which we often fail to notice or account for."
Overburden/Overlook is a community-oriented art project, and when finished, a mobile overlook will be created to tour and observe open pit mines.
"This overlook will be imagined as a social space for viewing and interpreting the changing landscapes of northern Minnesota's Iron Range," Phadke said. Throughout the project, research and stories will be gathered. "Our hope is that this project will provide an opportunity for people, especially those who live and work on Minnesota's Iron Range, to reflect on the past, present, and future landscape of the area; and to find new meaning in their own stories."
Felt Here is a middle stage of the project where public art is being facilitated.
The next step, scheduled for 2020, will include gallery exhibition to document the public art and continue the project's conversational goals.
This project is lead by Phadke and Matteson.
Phadke is a political scientist, professor and chair of the Environmental Studies department at Macalester College in St. Paul. She is currently working on a multiyear project called Mining Futures, which is sponsored by the U.S. National Science Foundation to examine the future of mining.
"By 'mining futures' I am referring to both the future of the industry and the future of communities in mining regions," Phadke said. This research includes case studies beyond Minnesota.
The projects Overburden/Overlook and Felt Here have grown from the Mining Futures project.
Matteson is a public artist and cultural organizer. She is also the co-owner and collaborative director of a water-focused arts organization called Water Bar & Public Studio.
"The artwork I create — primarily printmaking, textile, and socially-engaged art — is meant to build community and to connect people with one another, as well as the places they live," Matteson said over email. "I also create visual artwork and write poems that are more personal, as a way of sharing my experiences and connections with people and place."
Although the projects are not yet complete, Phadke has several research findings.
"My findings are that there will be a need for more metals for achieving climate solutions, especially copper and rare earths," she said. "However, it's possible to retrieve about 30 percent of the new metal we need from recycling and recovery. We need to build those infrastructures now because mining is always an environmentally damaging act and its not fair to ask rural people to bear those landscape burdens alone."
Collaborators
Felt Here was made possible through a partnership with the Iron Range Partnership for Sustainability, which served as a fiscal sponsor for the Rural Art Project Grant received from Arrowhead Regional Arts Council. This grant allowed the pop-up workshops to be free of charge and open to all.
The Arrowhead Regional Arts Council were not only big supporters of the project but also co-organizers.