MINORCA MINE — "Are we going to take our glasses off today?" asked a rough, yet happy man to a bus load of Virginia fifth graders in early May.
"No," responded Chris Holmes' class.
"How about the helmet or vest?" asked the miner giving them the tour of ArcelorMittal. He was known simply as "Joey's Dad," a father to a student in Holmes' class.
"No," responded the excited students as they reviewed safety rules.
Holmes, who retired after this school year, has taken his classes to the ArcelorMittal Minorca Mine for decades. It is the culmination of their geology and area history instruction for the year. While at the mine the students get to observe a mine blast, identify rocks in the tailings and tour the mine — all of which is topped off with a pizza party.
"Seeing the blast," said student Dane Powell, as the bus rumbled to life and began bumping down the mine's roads, "I think it will be really cool!"
The group of boys were excited to watch the chain of explosions, but they knew why they were there.
"We are here to learn about mining," said Jason Dreshar. "We are learning about how mining happens, how mining is done in our area and how they impact our region."
Classmate Hannah Folman agreed.
"We are learning about mining and we are here to see and study it," she said. "I want to know what my dad does in the mine." Folman, whose dad is a traveling millwright, had been looking forward to the field trip to see the daily action.
While the bus bumped along Joey's Dad, Derek Aho, the process manager for pit and crushing operations, pointed out different areas they were passing and explained some equipment.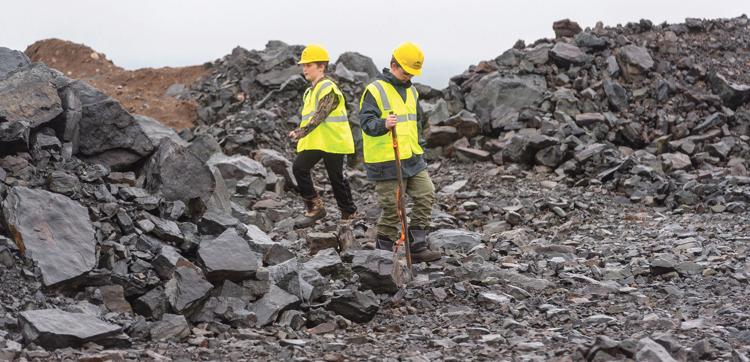 "Elijah's dad is setting the blast off today," said Aho of another student's miner father.
This is one reason Holmes has always enjoyed bringing his students to the mine — there is always at least one or two parents who work there. This class claimed many parent miners. Keith's dad, for example, works in the shop.
Holmes started teaching his class about mining by exploring the mining mural on the main floor of their school, Roosevelt Elementary. In the fall they began learning about geology through the mural, visits to the school forest and guest lectures. They identified rocks and then tumbled them to experience their beauty.
In the winter months the class visited the Virginia Area Historical Society Museum and learned through their mining and logging exhibits.
"In the past few [spring] months we have been talking about the culmination of these lessons," said Holmes. "You can't get better than seeing a mine blast."
Excited chatter continued as the students filed off the bus that had just arrived to where they would be viewing the blast. Students looked at the tailing from past blasts.
"There isn't any gold here, just fool's gold," said one students. "What if we find a tiny diamond?" He asked as Holmes said they can collect some rocks to take home.
This year, along with Holmes' class, sixth graders from Southridge School also attended this mine blast and tour day. Teachers Katie Siats and Amanda Wood lined their students up so they could all see the blast area far away and below.
"This is an extension of our engineering unit," explained Wood. Siats added that this also built on the Minnesota History that she has been teaching.
The Southridge classes were able to get transportation provided by Iron Mining Association so they could attend this event.
ArcelorMittal invested time preparing for this event. A tailing area had been cleared and leveled off by shovel operator John Ashby.
"We cleared this spot for the kids to watch the blast and brought some waste rock for them to look at," said Ashby, standing off to the side of the excited students with a small group of miners. "We do a blast at least once a week."
"John and I like seeing the kids' reactions to the blast," said service truck driver Jen Hotakainen. "Seeing it all the time you get a little jaded."
Students were finally arranged along the orange barrier so they could all see the blast. The miners spoke over walkie talkies and the one minute then 30 second warnings were announced. Excitedly, the crowd of students counted down from 10.
Nothing happened. There had been an issue with explosives and they now had to wait 15 minutes for the blast to be reset.
Elijah received some good-humored teasing, as his dad was discharging the blast that day, while the classes headed to the oversized haul truck.
"This truck carries about 210 tons a haul," explained the senior Aho. "Each tire costs about $25,000 and has a life of about six months," he said answering a question from Holmes. The adults were impressed with these numbers but the students were more interested in looking down at the rocks than up at the massive vehicle. They picked up quartz, agate and jasper before filing together for a group shot inside the bucket of the loader.
Then, they filed back to the orange tape to watch the blast.
Again, they counted down with ever-increasing excitement. Then — boom, boom, boom echoed in the wind as the series of mine blasts ignited, seconds apart, in a chain reaction, moving rock.
"Wow!" exclaimed the children and adults alike. "It is one thing to know what is going to happen and it is another to experience it with your own eyes," said one adult.
The breeze soon followed the echo bringing scents to those assembled.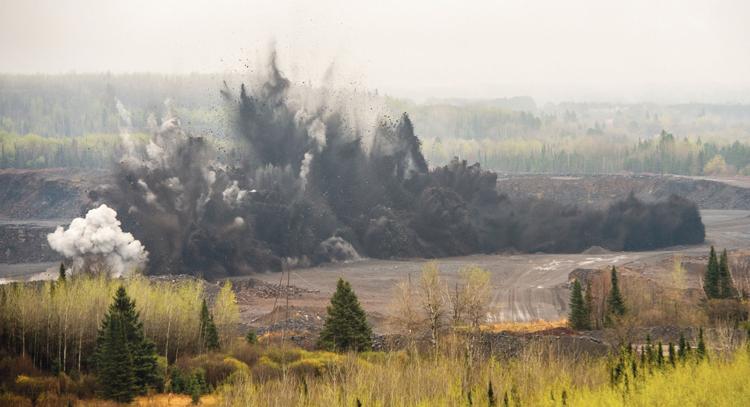 "That is the smell of hot rock in the wind," said Holmes. "That is a cool smell but is what would kill the miners. It fills up the lungs from the bottom up."
Students reenacted the blast. "It was pa-pow!" said Isac Triestman throwing his arms in the air. "It was satisfying," said McKenzie Benson. "The smoke was like a roar."
This experience was about educating these students and the mining company appreciates that. Environmental Manager Jamie Johnson accompanied the classes.
"One of the most important parts of my job is educating kids and making them aware of all aspects of mining," Johnson said. "Days like this are great for them to experience. Any science that is hands-on is always exciting and can peak their interest."
As a classroom parent and miner, Aho agreeds. "This is great. So many familie with parents working here it is great showing them what they do. Mining is a big part of our area and it is great for them to see it and maybe get interested for their future."
Proudly he added, "Obviously, it is great having my son here today."
After the blast, students were given time for a rock hunt and many showed their teachers samples and correctly identified the minerals.
After watching the blast, students took a tour of the mine. "Wow," a small group exclaimed while walking into the control room. "Look at all of those buttons!"
With earplugs in place, small groups took turns looking out over the area where water is used to clean and begin to prepare mined minerals for transportation.
"That was cool," said Emma Hipple through the very loud area. "I didn't know it would spin so fast — I thought it would be slow," she said referring to a machine creating pellets.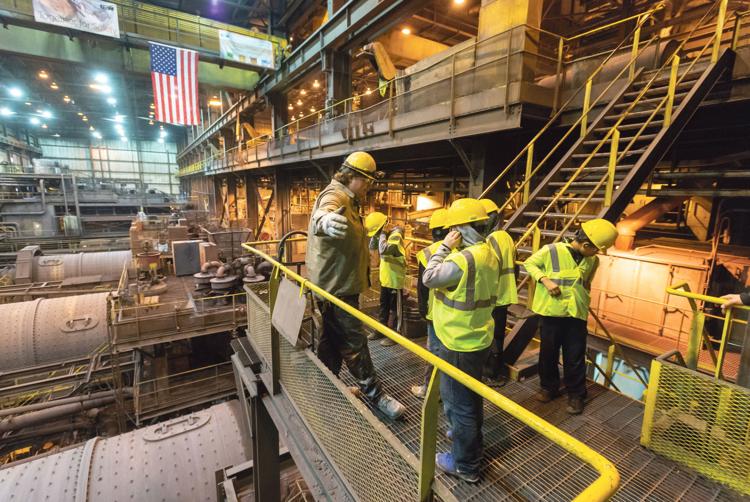 Jonathan Holmes, Operations Manager, has been arranging tours for this class for over 20 years. The elder brother of teacher Chris Holmes, the two have given this experience to generations of students. However, for both Holmes men, this would be their last tour group. Although not planned, the brother retired only days apart.
"It is great to give kids the experience and opportunity to learn about the mine," said Jonathan Holmes. "For many this is their first experience was this tour and they work here now … a lot of the students have parents and relatives in this industry … When they get this experience it gets the whole family involved and sticks with the kids."
Holmes went down the hall and grabbed Nick Richards, a buyer and shift manager for the mine.
"I came out here in 1992 while in Mr. Holmes' class and then once in high school with our welding group," explained Richards, who has now worked at Minorca for 12 years. "I remember seeing everything and being interested just by the size of everything."
Although the tours now end for the Holmes men, they continue for students across the Iron Range as future teachers are encouraged to contact ArcelorMittal about mine tours.
Chris Holmes' class gets an up-close look at area's mining operations