ELY — Before Kevin Boerst was hired as the leading expert on rock layers and mineral formation at the Iron Range's newly-proposed billion dollar underground copper-nickel mine, he was working with the different layers of sandwiches at a local Subway.
The important qualification here is that his geology degrees were being put to use as an Introduction to Geology instructor at Mesabi Range College in Virginia at the same time the self-described sandwich artist was in business.
Speaking from the Twin Metals Minnesota office in Ely, Boerst has an easygoing persona and an excitement about science that began in his early days in Wisconsin (forgive him, he's a Packers fan).
It's a career that would eventually carry him across the globe before his latest landing spot with Twin Metals as the chief geologist for what would be the state's first-ever underground copper-nickel mine, and potentially the second-ever copper-nickel mine in Minnesota.
Boerst is in rare company at Twin Metals. He's been with the project for more than a decade, back before Twin Metals and its predecessor Duluth Metals even existed, at a time when PolyMet — the proposed surface-level copper-nickel mine near Hoyt Lakes — was still in its infancy.PolyMet is currently on year 16 of its process to build a mine, to help put that in perspective.
So from Wisconsin to Africa and back to Minnesota, from the Italian BMT to the PGMs of the Duluth Complex, this is the story of the man behind rocks at Twin Metals.
'You have to have a little bit of imagination'
From his days growing up in Wisconsin, Boerst was always interested in rocks, walking through the fields picking up the pretty ones. The sciences were always within his line of interest for the future, whether as biologist, forester and even an astronaut.
"The astronaut one didn't pan out too well. I'm not astronaut material. I would get so seasick," he said. "I always wanted to be the first geologist on Mars. I'm too old for that now though."
Still, the fascination Boerst holds with rocks extends beyond his Twin Metals work. He tells the story of inviting people over to his home recently, who admired the backsplash he hand-quarried, and asked what he did for a living.
Geologist was the perfect fit when he told the crowd.
"The great thing about geology — I'm a very science-oriented person — and it's the marriage of all the pure sciences: mathematics, physics, chemistry, a little biology if you get in fossils," he said. "And then there's just little titch of art in there. You have to have a little bit of imagination."
Boerst took that love of rocks and science to the University of Minnesota-Duluth and later earned masters with honors in geology at the University of the Witwatersrand in Johannesburg, South Africa.
He stayed on the continent to work for several companies including Anglo Platinum in the eastern Bushveld (South Africa), Harmony Gold in the eastern Kalahari (South Africa), doing environmental geology in the Okavango delta in Botswana and Sub Saharan Resources on a tantalum-nickel project in northern Mozambique.
Boerst returned stateside to Minnesota around 2003-04 for his gig at Subway and Mesabi Range.
"You need to pay the bills," he said. "Suck it up and get a job."
So how did a wanna be astronaut, turned sandwich artist and community college instructor become the head geologist and one of the most technological mines introduced in Minnesota?
It started in October 2006, when one of Boerst's former professors at UMD recommended contract work as a geologist for Wallbridge America, the company that held the leases at the current location. The project was later turned over to Duluth Metals, the better-known precursor to Twin Metals.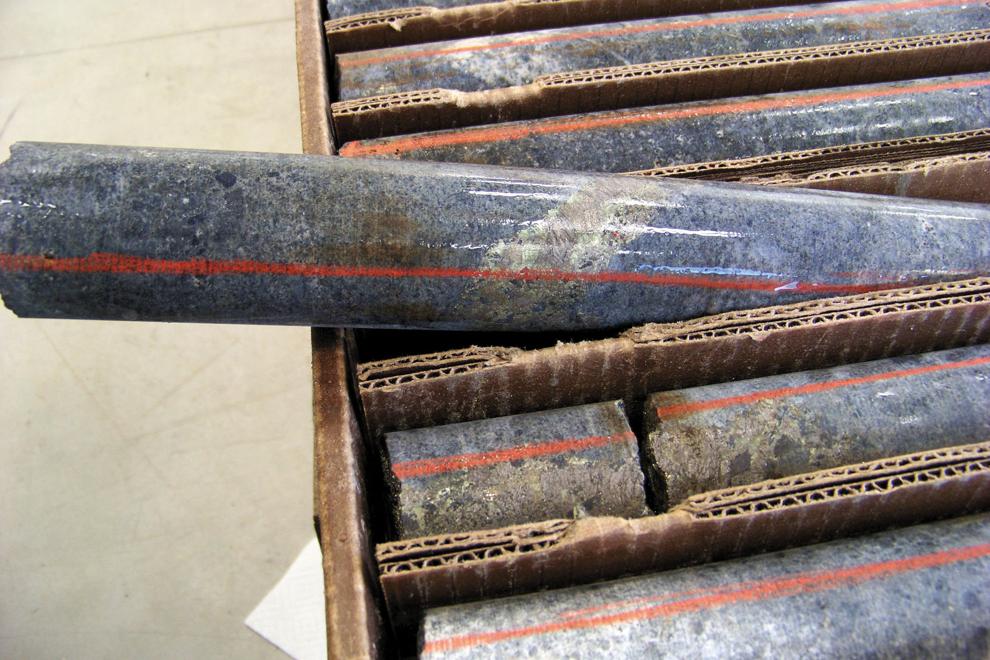 Striking copper
Finding a mineral deposit is almost like a targeted form of wildcatting, with an emphasis on the targeted part. Wildcatting is a form of oil drilling where exploration wells are drilled in areas not known to be traditional or even expected oilfields.
Mineral deposits like the Duluth Complex are more of a sure thing, but coming across a hit can be difficult. Finding a deposit is as easy as mapping it out with the use of good science, or someone finding surface rock with the minerals embedded. Even still, in the right geological environment, the exploratory drilling process makes the average baseball career look like a hall of famer.
"The majority of exploration, drilling, it's a one in 100 hit," Boerst explained. "It's a long shot. I got this great idea, all the rocks fit and there might be something here. Usually, more often than not, it's a dud."
The copper and nickel deposits found in the Duluth Complex near Ely were first discovered in the 1950s while building out roads and infrastructure. Drilling started on the land in the 1960s and 1970s, but mining came to fruition when Duluth Metals picked up the leases around 2006 and set their sights on a mining project.
"There were seven holes in the ground that they drilled when I started," Boerst said. "We now have 496, plus wedges."
Finding the full-scale deposit is a lesson in geology, geometry and art, he continued, running his hand along a map of where Twin Metals will mine if its plans are approved by state and federal regulators in the coming years.
He stops at the mineralized horizon.
"So that's the ore body. Basically, think of it as a thick blanket, roughly a couple hundred feet thick."
One advantage companies have in finding mineral deposits, as opposed to wildcatting oil drillers, is a vast amount of public information about each parcel and lease, including a long history of drill core samples.
Exploratory holes are regulated by the Minnesota Department of Natural Resources and kept in the agency's drill core library in Hibbing. At least one quarter of the core is required to be given back to the state and logged as publicly available information. When a company ditches a mineral lease, another company interested in acquiring it can check out the core and rocky types, and see how far down minerals were found.
"Then it becomes an exercise in extrapolation," Boerst explained. "You try and figure out, and hope, it continues on at depth down here. So you drill a couple holes here to test that out. Here, about maybe 3,000 feet, we should hopefully hit the ore body. Hopefully."
Once the ore body is hit, a geologist like Boerst logs the core and describes it.
"You describe the different mythologies, which the rock the type, the mineral percentages, the textures, the cracks, any alteration — just a full description — just nerd out on the core," he said.
From there the team connects the dots to try and map out a complete picture of the ore body, which isn't a 100 percent complete picture because it's a one-dimensional picture of a three-dimensional land mass.
"The core really is a line for all practical purposes," he added.
That's where the artistic side of geology comes in, using science and art to connect the formation together to paint an entire picture. Doing so involves software that constructs a 3-D model of the different rock types and shape of the formation, and geostatistical computations to help fill in the rest.
"You get some pretty heavy statistics on that to actually interpolate what the grade is between there," Boerst said. "So you actually construct what's called a block model. You basically make this cube in space and you break it up in a little itty bitty teeny weeny blocks and each block is assigned a position of volume, and you interpolate grades in between there."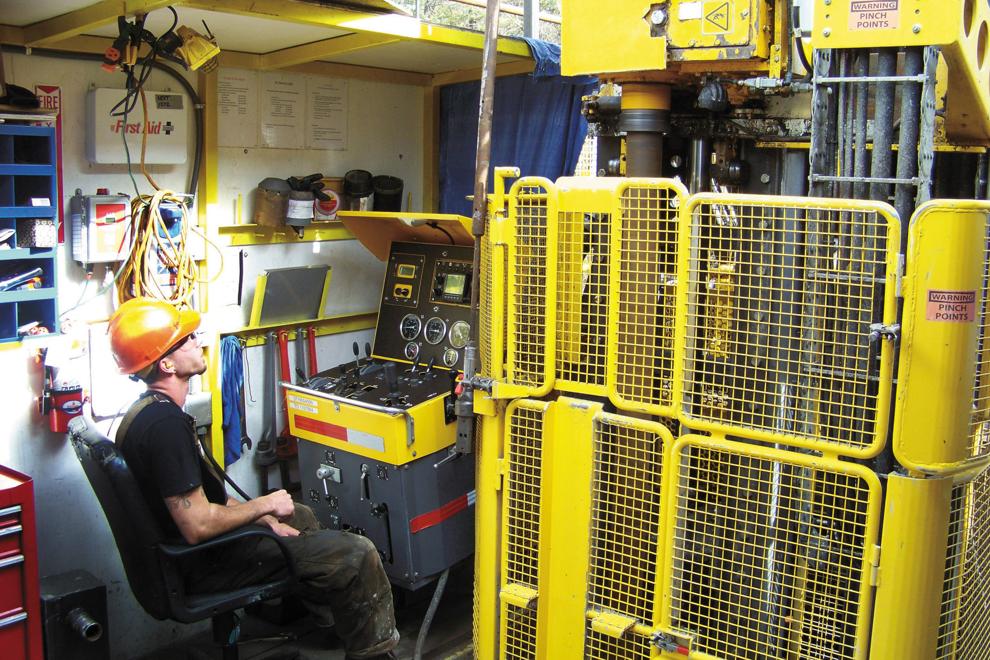 More demand, but more time
The viability of the Duluth Complex to unearth minerals was never much in question, but the amount of copper, nickel, platinum, palladium and other minerals (PGMs) needed has been a game changer, Boerst said.
According to him, they're the minerals that will be needed for the nation's green economy hopes in the future, pointing to how they will help reduce carbon monoxide emissions as a catalytic converters in cars, scrubbers for power plants, wind turbines and solar panels.
He points specifically to cobalt and nickel, two minerals found in the Duluth Complex, that are important to build the batteries found in electric cars and cell phones.
The diversity of minerals found at the Twin Metals project site, he said, improves the economics because the company won't be held by one mineral commodity.
"It's like having a Menards instead of a hammer store," Boerst said. "If people don't want to buy hammers this month, well OK, we also sell chainsaws. We also sell lumber."
In December, Twin Metals formally submitted plans to state and federal regulators to build its long-planned underground mine near Ely and the Boundary Waters. Boerst has worked on the project for more than a decade already and, realistically, could be waiting another decade or more for ground to be broken on construction.
The mine plan going out to the public and regulators means some job responsibilities are changing for the geologist. Hewill also be providing geological input on the engineering side of designing the mine itself. He's also doing more interviews and public relations work, but is also phasing into the environmental side of things as the company drills holds to monitor water quality and conductivity to study the hydrology of the area.
"Which is something that really hasn't been done anywhere close to this detail in this area ever," Boerst added. "Which is necessary to know how this will behave."
How it behaves will be the subject of an intense public review and comment period as agencies consider the permits and regulatory aspects of the mine. It is expected to face intense scrutiny and several legal challenges along the way.
Boerst, echoing the sentiment of his Twin Metals colleagues, said the submission of the mine plan of operation is sure sign they're ready to move forward and believe they can without harm to the Boundary Waters and other watersheds.
"It's been a really cool ride seeing the evolution of the project from the early days, how the company has changed," he said. "Yeah, it's been an interesting ride. And I think it's really important to me personally to be part of this and that I can make sure that this is done correctly. It's important to me because I live here. I'm raising my family here. I want it done right."