MOUNTAIN IRON — Sit in the cab of United States Steel Corporation's brand new electric shovel at Minntac Mine and you'll know why it's such a big deal.
A refrigerator. Microwave. A Pioneer sound system that will rattle the windows. Full climate control. USB ports. LED lighting. Panoramic glass in front of you and at your feet. And an operator's chair with comfort settings that make it feel like a king's throne.
But it's more than creature comforts that make the $20 million-plus shovel the real deal.
The 2,390,000 pound custom-painted AC-Drive P&H 2800XPC shovel is a sign of U.S. Steel's confidence in the future of iron ore pellet production at Minntac Mine.
It's also a long-term commitment by U.S. Steel to its Minntac employees and to Iron Range communities founded on mining.
"At U.S. Steel, we are proud of our products that are mined, melted and made here in America," said Doug Matthews, senior vice president — Industrial, Service Center and Mining Solutions; interim head — Tubular. "We are investing across the company, including here at Minntac, to ensure that our customers can continue to expect the best in quality, delivery and cost. The new shovel will ensure the facility, the first step of our process, maintains a high level of reliability for the future."
The mammoth shovel — 43-feet wide, over 60-feet tall and more than 72-feet long — is capable of loading a 240-ton production truck in as few as three scoops of its gargantuan 41 cubic yard bucket.
For perspective, the bucket could swallow two vans, and more.
Minntac Mine is North America's largest taconite plant. It's capable of producing 16.3 million tons of iron ore pellets per year. Iron ore pellets are the primary ingredient used to make steel.
"It all starts here," said Larry Sutherland, U.S. Steel Minnesota Ore Operations general manager. "The capital investment that U.S. Steel has made to its mining operations shows its commitment to mining and steel production in the USA. U.S. Steel is the only flat-rolled steel facility in the United States where its mined, melted and made."
The shovel will be used to strip waste rock or to load crude ore for delivery to Minntac's four primary crushers.
On June 18, three months after construction began, the shovel was officially handed over to U.S. Steel by Komatsu Mining Corporation Group. Komatsu, a worldwide leader in electric mining shovels, sold the shovel to U.S. Steel.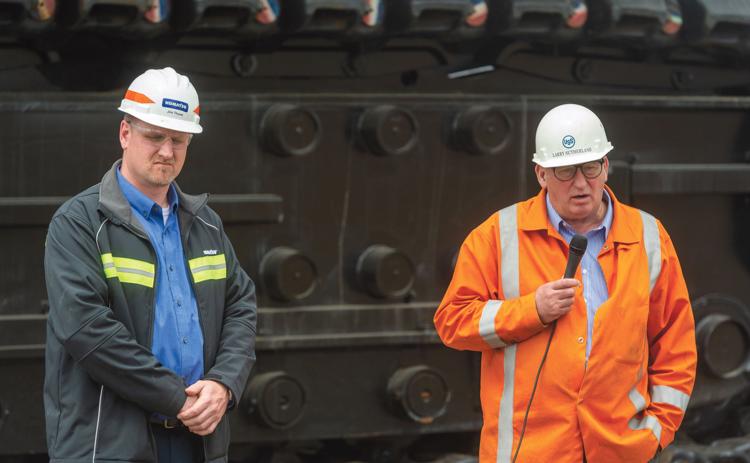 Minntac employees say the shovel is a positive sign for Minntac, its 1,400 employees and the region.
"It means a lot," said Leo Lambert, a United Steelworkers (USW) Local 1938 shovel operator from Tower. "It means the company is thinking about the longevity of the mine. Knowing they're putting that kind of money into it, and knowing that they are going to get a second shovel like this, is exciting."
John Arbogast, USW Local 1938 president, said the shovel is part of a series of large capital investments planned at Minntac Mine and Keetac in Keewatin in 2019.
"It's a huge thing for the men and women at Minntac and a huge thing for the communities also," said Arbogast. "It will help productivity at the mine and it's a sign that they're willing to put money into the mine, which is good for not just our people, but people outside the mine. For every job in the mines, there's three jobs outside the mines that are related."
In mid-March, Komatsu began assembling the shovel at a Minntac build site.
Komatsu employees at its Iron Range operations in Virginia, built specific parts for the shovel and helped lead assembly, said John Ward, Komatsu Mining Corp. director operations surface mining — Iron Range. Komatsu's Iron Range facility employs 85.
"Some of the components such as the dipper, were built here," said Ward. "In some ways, every employee on the Iron Range has been involved in one way or another with the build."
Building the shovel — especially in the throes of a long Minnesota winter - took a herculean effort.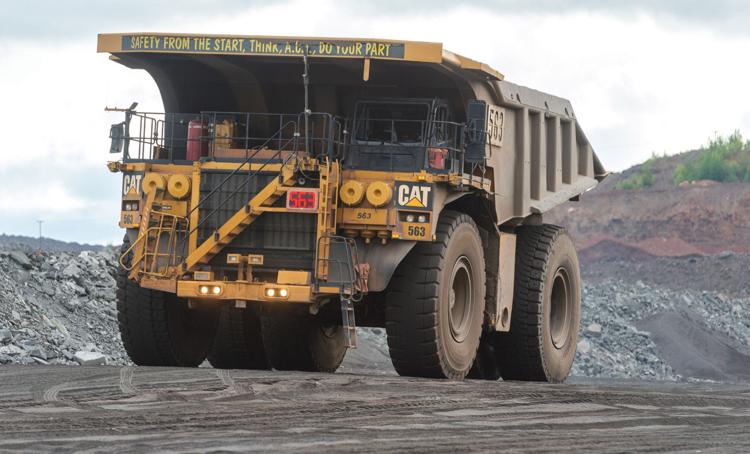 About 80 semi loads of parts were trucked from Komatsu Mining manufacturing facilities in Milwaukee, Wis. and Longview, Texas. Assembling the parts into a powerful machine that can rock the earth, took approximately 9,000 man hours.
The state-of-the-art shovel is unique in several ways.
It's the first-ever AC-Drive (alternating current) powered shovel put into production on the Mesabi Range, said Jim Thune, Komatsu Mining Corp., regional manager-Iron Range.
By using an AC electric motor, the shovel is simpler in design, faster, and uses six-to-eight percent less electricity than a similar DC (direct current) electrically powered shovel, said Thune. The lives of the transmission and motor on an AC-Drive shovel are also longer than a DC-powered shovel.
As the newest and most modern electric shovel on the Iron Range, it brings increased efficiency, reduced operating and maintenance costs, and dependability, measured by decades.
According to Komatsu its P&H AC-Drive shovels provide 3% faster cycle times, 2.5% increase in availability and a 5% productivity increase. That, according to Komatsu, means lower total cost of ownership, high production, and top-notch reliability and durability.
"It's simple in design and more effective on a cost-per-ton basis," said Thune. "It's much faster and responds quicker than Minntac's existing fleet. This machine will dig for 20-25 years before it needs an overhaul. This machine will outlast the careers of some of our employees."
"We like it because it is energy efficient," said Sutherland. "We're always looking for that energy efficiency."
Each year, Minntac Mine moves about 110 million tons of material to produce about 16.3 million tons of iron ore pellets.
The powerful shovel, capable of digging into 55-foot banks, promises to be a significant asset, said Erin Lind, a U.S. Steel process engineer.
"It's a big machine that will dig smoother, faster and safer," said Lind, of Virginia. "I think it's really awesome that the company is putting money into equipment like this. It shows things are going well and to see them put money into mining is nice."
A day after its unveiling, the shovel was "walked" six hours from its build site and put to work in Minntac's West Pit.
Komatsu provides several weeks of training to Minntac Mine shovel operators and electrical workers who will operate and help maintain the shovel.
P&H first sold a shovel to U.S. Steel at the Minntac property in October 1967. Since then, P&H has sold 30 shovels for Minntac mining operations.
"This relationship has been 52-years," said Thune. "We treat them as a partner and when they call us, we show up. We do what we need to do to help make them successful. Even though we sell them, we treat them like it's still ours. Our employees take taking care of this equipment very seriously."
Minntac operates both electric shovels and hydraulic shovels to remove overburden and to load crude ore into its fleet of 50 production trucks. Hydraulic shovels are more mobile than electrically-powered shovels, but the 7200-volt electric shovels are powerhouses.
"I like the P&H electric shovel," said Sutherland. "The 2800 is really a work horse. But truthfully, there should be a mix of electric and hydraulic shovels in our mining."
The last P&H shovel sold to U.S. Steel for Minntac Mine was in 2007.
The last sale of a P&H 2800 series shovel in the United States was in 2011.
"The biggest story as far as we're concerned is that it's been a lot of years since we've had a shovel sale," said Ward. "The story here is that we mine iron ore, which goes to steel mills, with which we build our machines. That's the beauty of it. It's a complete circle."
With anti-dumping tariffs in 2018 placed on imported steel by President Trump under Section 232 of the Trade expansion act, the industry as a whole has regained its health. And profitability has translated into capital investments.
Northeastern Minnesota's six taconite plants produce about 40 million tons of iron ore pellets annually. Minnesota iron ore pellets provide 80% of the first pour steel (the first time iron is made) in the United States, according to the Iron Mining Association of Minnesota (IMA).
Northeastern Minnesota's taconite industry employs about 4,000 directly and supports approximately 11,200 additional jobs throughout the state, according to the IMA. The industry has a $3 billion per year economic impact on the state economy.
Yet, there's more good news ahead for Minntac Mine, its workers and area communities.
A second AC-Drive shovel is on order. Assembly begins in late October at Minntac.
Like the first AC-Drive, a second will boost Minntac's efficiency and productivity even more.
And shovel operators like Lambert will be able mine even more of raw material used to make American steel.
"I'm a baler," said Lambert with a laugh. "I like loading fast. Hopefully we don't make this hole (Minntac Mine) too big and it goes away."